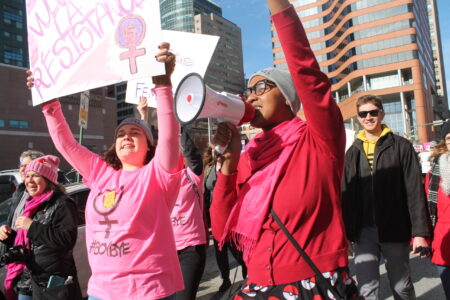 By Candice Yanez
The US Secretary of Education, Betsey DeVos, released new sweeping federal mandates that give more protections to those accused of sexual misconduct. The new Title IX rules, which come into effect in August, are a right-wing reaction to the #MeToo movement and is intended to roll back the gains made by activists, and survivors of sexual assault and misconduct.
The new rules will adopt the Supreme Court's narrow definition of sexual misconduct as "unwelcome conduct that is so severe, pervasive and objectively offensive". That means schools, under the new regulations, will now be able to dismiss complaints, such as dating violence, that do not meet the narrowed definition of sexual misconduct. 
Colleges are now only responsible for responding to on-campus incidents or off-campus incidents strictly related to school activity, such as fraternities or school-support functions.
By limiting investigations to location-based boundaries, many sexual harassment complaints will be virtually ignored. Most sexual assaults do not happen on college campuses, but instead occur at off-campus spaces. Off-campus locations and activities include housing ―87% of college students live off-campus ― parties and bars where sexual assault can be prevalent. For example, according to data obtained by the Associated Press, the University of Texas has received 58 complaints of sexual assault on campus grounds since fall 2014, while during the same period there were 237 reported incidents at apartments, houses and other off-campus locations.
A significant part of this restriction is that colleges will not be required to investigate sexual misconduct involving students in living abroad programs― where assault is also prevalent. A 2017 study reports that women who study abroad are five times more likely to be assaulted than their peers who remain on their college campuses. 
The new Title IX rules would also allow schools to conceal off-campus misconduct perpetrated by staff. Schools will be shielded from liability for ignoring or covering up sexual misconduct. Colleges already have a history of ignoring sexual assault and not taking responsibility for the epidemic of college-based sexual assault and harassment that is happening both on and off their campuses.
The new changes also limit what an official report of sexual misconduct is and who can report it. The regulations expand stringent procedural requirements for sexual misconduct complaints — while loosening the mandated reporting status of coaches and other school personnel. Under reporting sexual assault is already a crisis, limiting who can report it will exacerbate the issue. The new Title IX will leave little recourse for sexual assault survivors and could lead to more underreporting.
The regulations mandate colleges to hold live hearings for the allegations in a process that would allow for cross-examination of the sexual assault survivor. This procedure retraumatizes survivors by making them feel like they are on trial for stepping forward about sexual misconduct. These types of proceedings are marked by the sexist and racist nature of the justice system itself that misplaces blame on women who have experienced sexual assault. Too often, in these hearings, odds are against the survivors of sexual assault because of discrimination against their gender, race, and class. 
The new rules stem from a long-running anti-woman and anti-student campaign to overhaul Title IX since Devos, a prominent and long-time public education opponent, was appointed as Secretary of Education in 2017.
The Title IX regulation under the Obama administration required colleges and universities to have processes in place to combat sexual assault, or risk losing federal funding. These regulations, while not comprehensive enough, were important gains won through collective struggle.
Right-wing and so-called "men's rights" groups and their constituencies are pushing these new mandates — and using the pandemic to roll back women's and LGBTQ rights. DeVos met with many reactionary men's groups— who harass women and survivors of sexual assault— for consultation on the Title IX overhaul. The narrative about due process rights they purport is really a dog whistle for reactionaries to attack women's rights.
Whenever there are attacks on women's rights, there will always be working women ready to fight back against the patriarchal capitalist system. Sexual assault, sexual harassment, and other forms of violence against women has deep ties to patriarchal class society. The protections for survivors of sexual assault are gains hard fought for by women and student activists hitting the streets and organizing together. Women are outraged and will continue to fight the systematic inequalities that women, people of color, and workers face!
Original article can be found here.