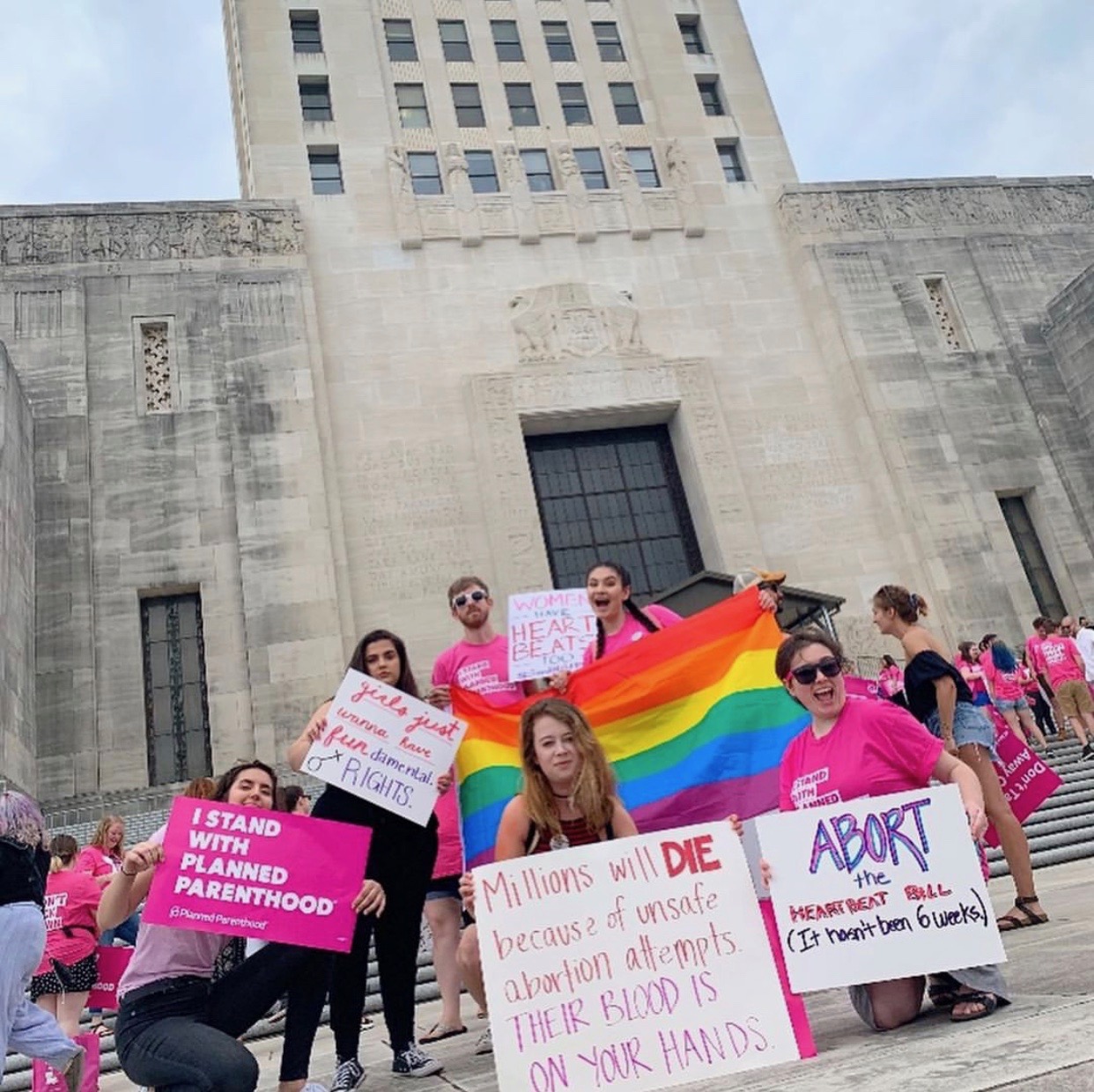 (Photo credits to Sadie Arbour and Bella Costanza)
On May 30, Louisiana launched another shot in the war on women's bodily autonomy, becoming the latest state to pass a near-total abortion ban following Alabama, Arkansas, Georgia, Kentucky, Mississippi, Missouri, North Dakota, and Ohio. Termed the "fetal heartbeat" bill by legislators, it it would ban abortions as early as six weeks into a pregnancy when electrical signals can be detected in the small clump of cells that would become the embryo's cardiovascular system. This is before most people even know they are pregnant. Unlike some of the other states that have passed such bans, Louisiana provides no exception for pregnancies caused by rape and incest.
A week after the ban passed, the Louisiana state legislature passed a further resolution to amend the state constitution so that it would explicitly deny any constitutional right to abortion. The amendment passed by a vote of 79-20 in the House and 33-5 in the Senate. It states that "nothing in the constitution shall be construed to secure or protect a right to abortion or require the funding of abortion." The measure will be placed on the 2020 ballot, where if passed it will be ratified into the state constitution. This was done to prevent state courts from overturning the abortion ban law, as recently happened in Kansas.
Understandably, many Democratic voters feel betrayed by the state's Democratic governor, John Bel Edwards, who signed the bill. But for those who know their state history, this is just the latest in a string of anti-abortion laws already on the books, most of which have passed with bipartisan support. In 2006, Democratic state senator Senator Ben Nevers sponsored a "trigger law" that would ban all abortions except for in life-threatening pregnancies should Roe v. Wade be overturned. It was signed into law by Louisiana's first woman governor, Kathleen Blanco, also a Democrat. However, many Louisianans are not surprised that Edwards, the son of a sheriff, would condone such an attack on the people. In May of 2016, he signed the "Blue Lives Matter" bill which made the targeting of police officers, firefighters and EMS personnel into a hate crime, just months before the Baton Rouge Police Department brutally murdered Alton Sterling. In an all too familiar story, no charges were brought against and the killer cops walked free with paycheck intact.
On May 29, over a hundred angry protesters gathered outside of the state capitol building as Edwards prepared to sign the bill into law.
"The cruel irony in all of this is that these politicians claim to be 'pro-life', but nowhere in that bill does it mention that if women are forced to carry unwanted pregnancies to term this will seriously jeopardize an already underfunded Department of Children and Family Services. Really they are pro-birth, after the baby is born it's no real concern of theirs," said protester Audrey Bell who works for a youth placement agency contracted by the Department of Children and Family Services and the Office of Juvenile Justice.
Edwards had hollow words for those who share Bell's sentiments. After a private signing ceremony he issued a statement: "I call on the overwhelming bipartisan majority of legislators who voted for it to join me in continuing to build a better Louisiana that cares for the least among us and provides more opportunity for everyone."
The "least among us" apparently do not include those relying on the Supplemental Nutrition Assistance Program, or SNAP.
Earlier in the legislative session the House had heard DCFS secretary Marketa Walters request an additional $13 million to continue support for over 850,000 Louisianans that receive SNAP benefits, the statewide equivalent of food stamps. "There are no edges left to cut," Walters said. "We are literally down to bone marrow. There is no fat in this budget." It seems her pleas fell on deaf ears as the $13 million has yet to be allocated for this vital program and 850,000 Louisianans are left holding their breath.
The sheer viciousness of the assaults on women is breathtaking. We have to see the abortion bans for what they are: an attempt to completely undermine the basic human rights of half the working class, in the context of a relentless assault on the living standards of all working people. In the words of the great labor organizer Mother Jones: "Don't mourn. Organize."