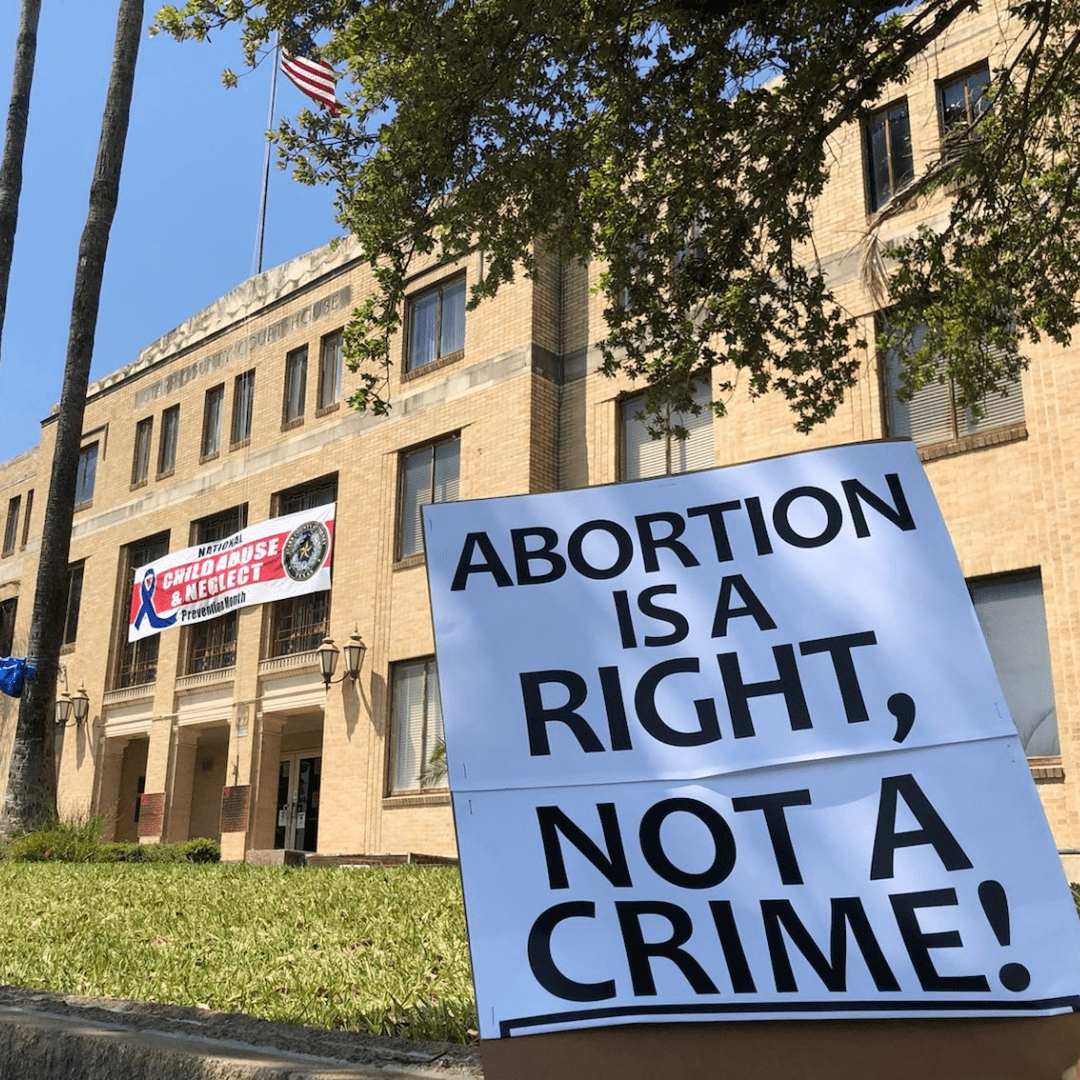 On April 7, 26-year-old Texas woman Lizelle Herrera was arrested by Starr County Police and charged with murder for allegedly performing an abortion procedure on herself. Herrera was held in custody until Saturday evening on a whopping $500,000 bond. Fortunately, Herrera's bond was paid by Frontera Fund an abortion rights organization and the county's District Attorney swiftly dismissed her charges.
This shocking event is one of the first to expose the truly harrowing consequences of Texas Senate Bill 8, which passed last September in the midst of a larger, ongoing nationwide attack on women's rights. That bill outlaws all abortions in the state of Texas after just 6 weeks of pregnancy—a time at which most women are unaware of their pregnancy. It also leaves the task of enforcement up to private citizens, offering a reward of at least $10,000 for reports of illegal abortions. As a result, Herrera's abortion, which allegedly occurred in January, was reported to the police department by a local hospital.
Starr County Police repeatedly refused to disclose the law under which Herrera would be charged. It is still unknown whether Herrera actually performed the abortion on herself or aided someone else in their procedure. Sheriff's major Carlos Delgado only noted that Herrera received "an indictment on the charge of murder after Herrera did then and there intentionally and knowingly cause the death of an individual by self-induced abortion."
On April 10, county DA Gocha Allen Ramirez filed a motion to dismiss Herrera's charges after concluding that she cannot be charged with criminal homicide for performing the abortion on herself. Ironically the stipulation that exempts Herrera actually came in part from Texas SB 4, another recent law that criminalizes doctors, clinics, and other providers for performing abortions but protects the woman receiving the procedure. The repeatedly muddy application of Texas's abortion laws on the part of the hospital, police, and DA indicate a sweeping, indiscriminate anti-abortion agenda despite a lack of actual clarity around the law.
Regardless of the true details of Herrera's case, she should never have been arrested, charged, or held for seeking a medical procedure. Corporate and right-wing media will inevitably twist the truth to portray Herrera and other women as criminals for seeking abortion services under an unjust law. Overwhelming evidence suggests that the need for abortion in Texas has not changed since the passage of SB 8; rather women are receiving abortions elsewhere or performing potentially dangerous procedures at home. Abortion clinics in neighboring states are flooded with patients from Texas who have no other options. Access to abortion is a vital component of women's healthcare and bodily autonomy and it will not cease just because the practice is criminalized. Herrera was charged with murder simply for trying to receive healthcare.
SB 8 and other anti-abortion laws disproportionatelyimpact poor women and women of color. Poor women often do not have the time or money to cross state lines for healthcare and lack social safety nets to raise unplanned children.
Texas's SB 8 is just one of many pieces of legislation intensifying the war on women's bodily autonomy. Despite many legal challenges from pro-choice groups across the country, SB 8 was upheld by the U.S. Supreme Court, opening the door for other states to follow in implementing their own draconian abortion laws. Women have already been left defenseless against abortion laws in Kentucky, South Carolina, Florida, Missouri, Idaho, and Mississippi. States like Idaho are similarly leaving enforcement up to civilians, encouraging vigilantism and circumventing any possible legal challenges to the laws themselves.
The crux of this fight will come when the Supreme Court rules on Dobbs v. Jackson Women's Health which directly challenges the landmark abortion case Roe v. Wade in late June 2022. The Democrat-led Senate fumbled its last chance at establishing nationwide protections for abortion when it shot down the Women's Health Protection Act earlier this year. Now, if the Supreme Court does not uphold Roe, abortion will lose all protection on the national level and laws will be delegated to state legislature. Research by the Guttmacher Institute estimated that 26 states will place a total ban on abortion if Roe v. Wade is overturned. But there is still time to change the tide.
It is clear that neither Democrats nor Republicans are acting in the interest of the millions of working class women across the country. Abortions, healthcare, reproductive freedom, and bodily autonomy are necessary for women — and society at large — to thrive. Working-class people must stand up to demand these rights until everyone has access to free, safe, and legal abortions. The Supreme Court and lawmakers are not completely immune to public pressure, but it will take a mass movement to demonstrate to them that stripping women's rights will no longer be tolerated.
Pro-abortion organizations operating in the Rio Grande Valley where Herrera was arrested include the Frontera Fund, South Texans for Reproductive Justice, and the National Latina Institute for Reproductive Health. These organizations will need support while women in Texas continue to endure this battle. At large, women across the country must demonstrate their solidarity with the victims of anti-abortion laws in Texas and other restrictive states. Lizelle Herrera's case must be a wake-up call to everyone that we must immediately mobilize to stand up and fight back for bodily autonomy for all.