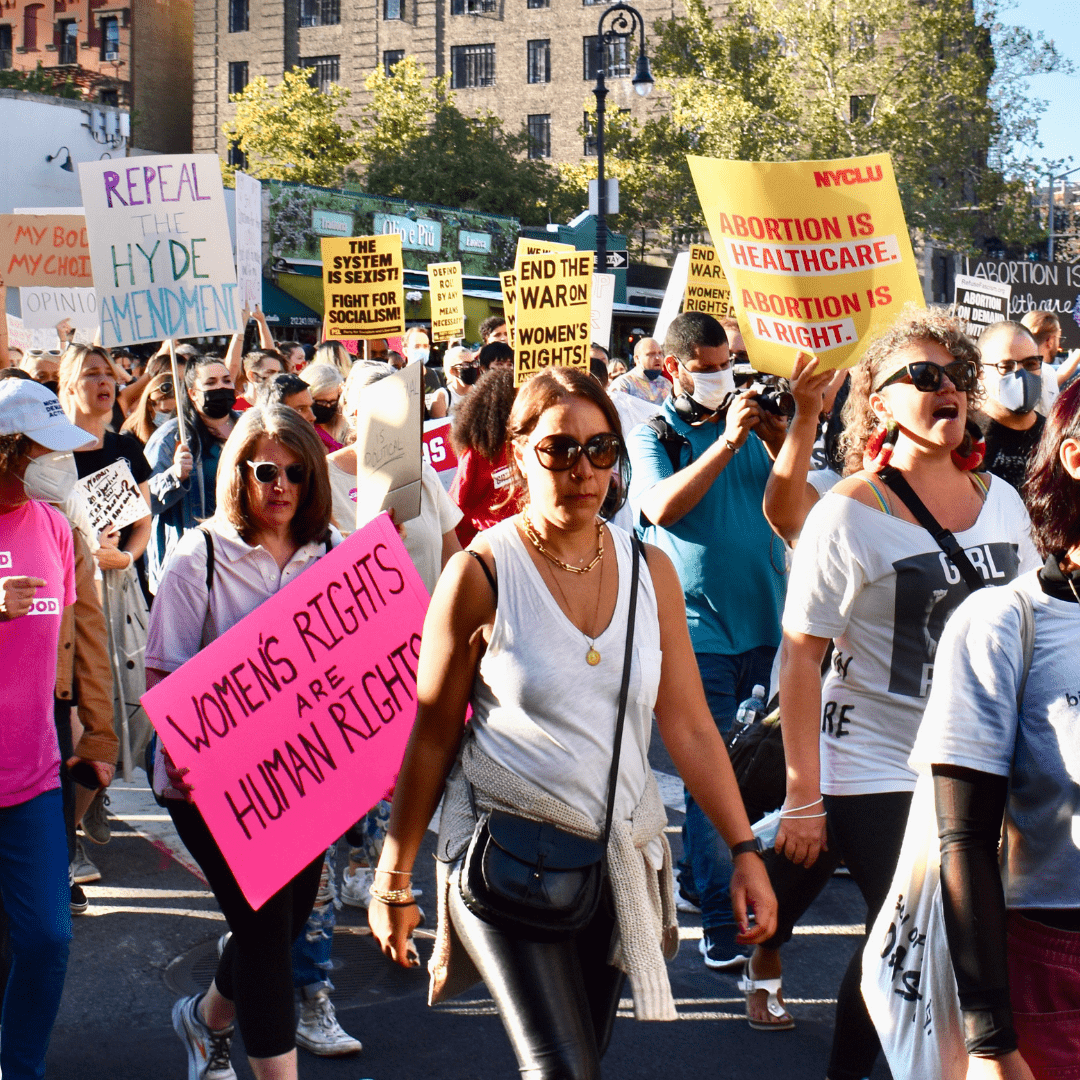 The latest wave of anti-abortion legislation has hit Oklahoma. On April 5, Oklahoma's Senate passed SB 612 with a vote of 70-14 after only five minutes of discussion. This law would make providing an abortion at any stage of pregnancy a felony, except in cases where a woman's life is in danger due to a medical emergency. The consequences for doctors performing an abortion would include up to 10 years in prison and $100,000 in fines. If it is allowed to go into effect, this bill would create a near total ban on abortion.
The bill, which was first passed by the Oklahoma Senate last year, was suddenly revived on April 5 without explanation from Republican lawmakers. There was some speculation that the bill was brought up that day in order to distract from the powerful advocacy of the hundreds of protesters who were holding a "Bans Off Oklahoma" outside the Capitol that day.
These protesters were speaking out against SB 918, a 2021 bill that repeals Oklahoma's abortion regulations, meaning that if the U.S. Supreme Court were to overrule federal abortion protections, there would be an immediate ban on abortion in the state. The bill was signed into law by Republican Governor Kevin Stitt, who has designated himself the "most pro-life governor." And on April 12, Governor Stitt signed SB 612—a near total ban on abortion—into law declaring: "We want Oklahoma to be the most pro-life state in the country. We want to outlaw abortion in the state of Oklahoma.
Politicians in Oklahoma may claim the onslaught of regressive and punitive abortion restrictions represent the will of the people, but they do not. Fifty-one percent of Oklahomans say abortion should be legal in all or most cases.
It is important to understand that abortion is currently still legal in Oklahoma and that SB 612 may never be enacted. The ban would go into effect 90 days after the state legislature adjourns at the end of May, but it is near-certain that it will face legal challenges in court. Oklahoma represents yet another state that has passed legislature to restrict abortion in the hopes that the federal abortion protections will be challenged and overturned by the Supreme Court this summer.
Ever since neighboring Texas passed its own anti-abortion bill, SB 8, Oklahoma's abortion clinics have seen a massive uptick in patients. SB 8 was able to go into effect because it evades federal protections by allowing private individuals to sue doctors who perform abortions. This loophole prevents people from challenging the bill in court because it uses private citizens rather than state officials to enforce the law, leaving nobody to sue.
According to a study from the University of Texas at Austin, almost half of all Texans seekings out-of-state abortions between Septermber and December went to Oklahoma. The approximately 600 extra patients a month have overwhelmed Oklahoma abortion clinics, which has just four remaining abortion facilities in the state. One of those providers, Trust Women, has had to stop providing other health care services to focus on abortion. Still, many patients have to receive abortions later in pregnancy because of longer wait times. If the Oklahoma ban goes into effect, it will leave a whole region of the country without a nearby clinic.
The repercussions of Oklahoma's potential ban are especially serious given the many expenses associated with inter-state travel. Taking time off work, paying for train or bus tickets, filling a tank with already highly inflated gas prices or procuring child care, makes abortion inaccesible for poor and working class women in Texas. Christina Parker, a non-profit worker at the Lilith Fund, which helps Texans pay for abortion, says, "Having anything happen in a neighboring state that would cut off that access even more just makes every single one of those barriers a little bit more intense." This bill will have its most devastating effects on already vulnerable populations, including working-class women, women of color, undocumented women and trans people.
There are many Oklahomans fighting back against these dangerous conditions, including the hundreds of people who demonstrated at the Capitol on the same day SB 612 was passed. This energy must continue, as next week the Oklahoma House will consider another draconian abortion bill: the "Oklahoma Heartbeat Act," a copy of the SB 8 legislation. The bill has already passed the state senate.
And in neighboring Kansas, Republican Representative Trevor Jacobs recently introduced another anti-abortion bill which seeks to criminalize abortion except in cases of stillbirth, miscarriage or ectopic pregnancies. It does not make exceptions for incest, rape or other life-threatening health conditions. This bill will also likely face legal challenges.
It is important that a powerful, unified, and independent women's movement fights back against these attacks. We cannot just sit back and wait to see whether the Supreme Court will protect the right to abortion. Although many applauded Biden's appointment of Ketanji Brown Jackson, the first Black woman to sit on the Supreme Court, this move does not change the court's conservative majority.
In the upcoming Dobbs v. Jackson Women's Health Organization case, which on the docket for early this summer, the court will rule on Mississippi's 15-week abortion ban. Based on the voting history and stated opinons of the current justices, the court is unlikely to uphold abortion rights won under Roe v. Wade and Planned Parenthood v. Casey.
This is why it is important for a militant women's movement to unify and come out into the streets. Roe v. Wade protections were only won because of the pressures on the court from mass struggle. We can learn from this rich history of the fight for reproductive justice. To combat sexist attempts to violate women's bodily autonomy, we must organize, build and fight for the future we deserve.