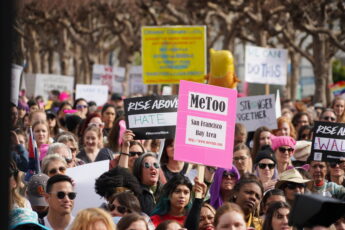 By Candice Yanez 
After a six-week trial and two weeks of deliberations, a jury in New York on Feb. 24 found Harvey Weinstein guilty of rape and sexual assault against two women. The conviction marks the end of a high-profile case that was pivotal to the rapid popularization of the #MeToo movement. The victory is a testament to the power of a movement centered around women speaking out and demanding accountability for rampant sexual assault. 
Weinstein was convicted on charges stemming from a sexual assault in 2006 and a rape in 2013. Weinstein could face decades in prison in a sentencing hearing set for March 11.  He could also be sentenced to as little as five years. 
Weinstein was found not guilty on the most serious charge, predatory sexual assault, which could have resulted in a life sentence. During the final deliberations, the jury was deadlocked on these predatory sexual assault counts before reaching a decision.
In 2017, Weinstein's decades long pattern of sexual harassment and assault was exposed, as multiple women actors revealed that Weinstein had harassed and assaulted them too. By October of that year, more than 80 women broke their silence and revealed that they too had been harassed or assaulted by Weinstein.
The Academy of Motion Picture Arts and Sciences expelled Weinstein. The Weinstein Co. placed him on indefinite leave and ultimately fired him.  
Then, on May 25, 2018, Weinstein was arrested in New York, and charged with rape and several other counts of sexual abuse against two women. The fact that Weinstein was even charged was a credit to the power of the #MeToo movement that had then spread like wildfire.  The prosecutor in the just concluded trial, Cyrus R. Vance Jr, the Manhattan district attorney, declined to charge Weinstein in 2015 despite having a recording of Weinstein admitting to having assaulted Italian model Ambra Battilana Gutierrez.  
The current charges were primarily based on allegations made in 2006 by former production assistant Mimi Haleyi, who says Weinstein forced her into oral sex, and then-aspiring actress Jessica Mann, who says Weinstein raped her in 2013.
These allegations and more were first reported by journalist Ronan Farrow in the New Yorker. Farrow also reported that Weinstein employed British-Israeli private intelligence firm Black Cube in order to foil the publication of sexual abuse allegations against him. 
Weinstein deployed investigators via Black Cube to extract information, such as women's personal or sexual histories, and compile psychological profiles. The information gathered was used to prey, harass and intimidate Weinstein's victims from revealing his crimes. 
After a four-month investigation, state prosecutors in New York filed a lawsuit against the Weinstein Company for failing to protect staff from Weinstein's abuse and harassment.
Since Weinstein's sexual misconduct was exposed,  there are now more than 400 similar allegations of sexual abuse against powerful and prominent men around the world and across several different industries. The global trend was  labeled the "Weinstein effect."
Hundreds of women coming forward with their stories became a landmark moment that triggered a # MeToo viral campaign on social media that saw working women write "Me too" on their facebook statuses to expose the epidemic of sexual violence and harrassment. October 2017 saw the hashtag #MeToo take off following allegations of sexual assault against Weinstein. The #MeToo Movement was first initiated by activist Tarana Burke some 10 years ago.
#MeToo has provided a platform for women to speak out against sexism. Women from all walks of life have stood up and demanded accountability for the bosses, landlords and other rich and powerful men preying on them. 
From Hollywood actors to McDonalds workers to farm workers, protests and social media campaigns revealed how misogynist and abusive conduct is prevalent in the workplace. An ABC News and Washington Post poll in 2017 found that 54 percent of women in the U.S. report experiencing unwanted and inappropriate sexual advances with 95 percent saying the behavior goes unpunished.  
Weinstein's guilty verdict comes years after #MeToo went viral. The guilty verdict represents a hard-fought victory that is symbolic for the millions of women around the world fighting against widespread misogynistic violence. 
Yet, while #MeToo has provided a platform for women fighting for accountability and equality in the workplace, sexual harassment and violence against women remain endemic and systematic problems. While #MeToo has spread to the halls of Congress and certainly exposed the sexual crimes of politicians at every level, there has been no substantial legislation or structural changes that would be necessary to undo this widespread epidemic. 
Such changes are all entirely possible, to some degree, but would require profound transformation to the way women are treated by the system itself. One of the greatest obstacles in pursuing claims of sexual assault and harassment is that victims are not seen as "credible" witnesses and are subjected to abuse and derision for speaking out and demanding justice. Often the people they are speaking out against, like Weinstein, are viewed as untouchable because they hold so much power in society–and the courts and police exist to serve and protect the interests of the elite and powerful.
We need to truly address and start to undo a history of violence and subjugation against women that stretches back centuries. Violence against women, in its many different forms, is at the heart of the structure of capitalist society. #Metoo was and remains a potent impetus for justice that must be transformed into a larger united struggle against the capitalist system itself to truly crush women's oppression once and for all. 
That struggle is showing its potential through a worldwide upsurge of resistance as women from India to Mexico to Argentina and beyond lead, organize and build movements that are taking on violence against women and demanding justice. The seeds of the changes we need to be free from the danger of assault in our own homes, on the streets, in our workplaces are present in the resistance that is growing. Continuing the struggle is how we will win that freedom. 
Original article can be found here.