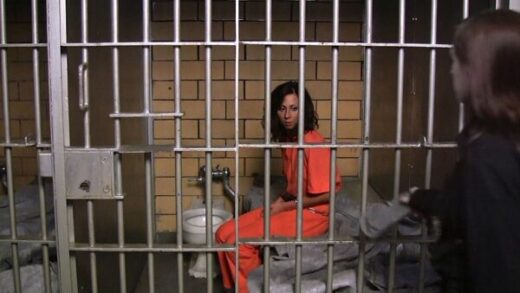 By Candice Yanez
On Tuesday April 28, Andrea Circle Bear died of Covid-19 at the Federal Medical Center Carswell. Twenty-seven days earlier she had given birth to a child while on a ventilator. She was 30 years old and serving a 26-month sentence for a nonviolent drug offense. She was the first woman to die from COVID-19 in federal prison. She should be with us today and able to care for her son. 
The United States is the epicenter of the Covid-19 pandemic with one million confirmed cases. The United States also has the largest prison population on Earth, including the highest number of women in prison. The vastly overcrowded mass incarceration system is a powder keg for infection amongst the most oppressed and disenfranchised sectors of the working class.
Across the country, coronavirus outbreaks are ripping through women's prisons and jails. In North Carolina, the North Carolina Correctional Institution for Women in Raleigh has become the latest site of a major Covid-19 outbreak. Seventy women tested positive for the virus, with several tests still pending.
The prison has a contingency plan which does not include the release of prisoners. Instead, they plan to isolate those with confirmed cases of Covid-19 to enact social distancing. But social distancing in prison is virtually impossible because of the close quarters and the constant contact with prison guards.
Public health guidelines are also nearly impossible to follow in prison. Crucial items during the pandemic, like masks, soap, and other hygienic supplies are inaccessible or flat-out denied to incarcerated women. Hand sanitizer is still categorized as contraband in U.S. prisons. Inmates, have been left to fend for themselves amidst the pandemic, having to resort to using shirts as masks even though they can be disciplined for "destruction of state property." 
The conditions of overcrowding, cramped living quarters, transferring people in and out of jails, and disgraceful medical neglect make prisons a breeding ground for rapid infections. 
In Arizona, for instance, where the governor has refused to release prisoners, it is predicted that 99 percent of the state's inmate population will be infected within the next few weeks. Yet, less than 1 percent of 42,000 in Arizona prisons have been tested for the deadly novel coronavirus. Most states are still only testing symptomatic inmates, making prisons ripe grounds for community spread because so many cases are asymptomatic.
United States prisons have always acted as reservoirs of infectious diseases. Behind prison walls,  HIV/AIDS, tuberculosis infections and a rising epidemic of hepatitis C are prevalent health crises that are continually met with routinely criminal medical negligence.
Many of the women's prison populations are some of the most medically fragile, with common diagnoses like diabetes, asthma, and hypertension. Before the Covid-19 public health crisis, prescribing medication for these illnesses and others was often delayed, putting women in life-threatening situations. Couple this with the Covid-19 crisis, and it is a death sentence for many women. Many of the most vulnerable in women prisons are elderly and pregnant women.
In Louisiana, for example, 74-year-old Gloria Williams, the state's  longest-serving incarcerated woman, is currently in critical condition with pneumonia in both her lungs. Williams should have been released because her clemency application was approved but has been sitting on the governor's desk awaiting a signature for 9 months.
In the United States, 2.3 million people are currently incarcerated. Women account for nearly 10 percent of the prison population, but they are the fastest growing prison population. Additionally, 60 percent of women held in local jails have not been convicted of a crime and are awaiting trial.
The number of incarcerated women increased by more than 750 percent since the 1980s, making the growth rate of incarcerated women twice as high as that of men. During that same period, workers have experienced numerous economic downturns and recessions but none as drastic as the one currently beginning. 
Mass incarceration is capitalism's  despicable "solution" to unemployment and rising economic inequality.  The majority of charges leading to the incarceration of women are related to poverty and survival, such as petty theft and drug addiction. The rise of women in prison also exposes the patriarchal underpinnings of the prison industrial complex that criminalizes survivors of domestic violence. These women should be released!
Socially responsible protests and creative acts of social solidarity have been popping up in states across the nation. On April 10, the Building Up People, Not Prisons coalition held a car rally demanding that Massachusetts prisons and jails release women and other incarcerated people to prevent the spread of COVID-19 in the prisons.  At the Perryville prison in Goodyear, Arizona, families and supporters of incarcerated women at the facility also held a car caravan demonstration demanding the release of women at the prison. 
The Covid-19 public health crisis has unveiled all the deep inequality fissures innate to the capitalist system itself.  The virus has also exposed the capitalist criminal justice system as criminal and unjust. Women are rising up and demanding for relief, not repression, for their incarcerated sisters and all prisoners!
Original article can be found here.