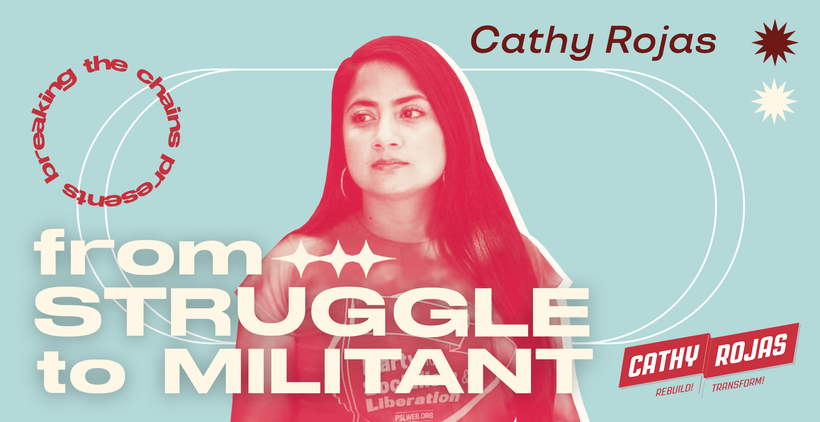 In episode 5 of From Struggle to Militant: A Revolutionary Story, we interview PSL's candidate for NYC major, Cathy Rojas. Cathy Rojas is a Queens native, a member of the Party for Socialism and Liberation and the daughter of two Colombian immigrants. Her mother is a housekeeper and her father an auto body painter. From working in the restaurant industry for years to working as a high school teacher in New York City public schools, Cathy Rojas knows what it is like to struggle to get by and she fights to change these conditions.

These experiences inspired Cathy to fight to improve her community. After working long hours, Rojas helps lead and organize mutual aid efforts in Queens including food delivery programs during the height of the pandemic. In the past, Rojas worked full time on organizing campaigns such as the campaign to keep the Amazon Headquarters out of Queens.

The company's presence would have resulted in a $1.7 trillion tax-exemption to Amazon, a trillion-dollar company, and would usher in a new wave of rent hikes, gentrification and displacement in the borough.

Cathy has also fought for rents and mortgages to be canceled, and to end police brutality and mass incarceration. She was an active member and trainer of NYC Cop Watch teams, which record and intervene when the police stop someone in the neighborhood. Her activism dates back to her fight against budget cuts and tuition hikes and for Black and Latino studies in SUNY and CUNY schools. Rojas also spearheaded a campaign to stop SUNY Albany's new contracts with Coca-Cola due to human rights violations abroad and racial discrimination lawsuits in the United States.

A proud graduate of NYC public schools, CUNY and SUNY, Rojas now works as a public high school teacher in Elmhurst, Queens, at a school dedicated to serving recent immigrant students from Latin America. The common thread linking her experiences is that profit-making always comes before the needs of the people in New York City politics. Rojas sees this as the root of all the different problems in the city: So she fights for a new system that puts people before profit, a socialist system.
Learn more about the Cathy for Mayor Campaign here.
Videos
Cathy for Mayor – in the news
From Struggle to Militant: A Revolutionary Story is a patron-only exclusive interview series that follows the stories of the women in the PSL – How did we become revolutionaries? What experiences shaped our political consciousness? How do we continue to build leadership within the larger movement? What you will find is that we are everyday people who have been galvanized by the oppression we've experienced and witnessed by the deep injustices in the US capitalist system.