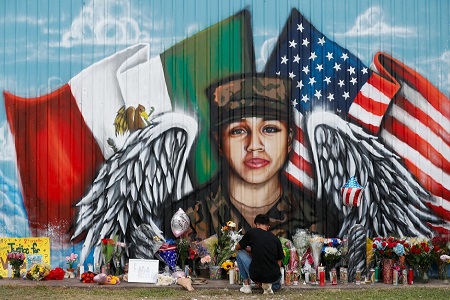 On June 30, the remains of 20-year old Army Specialist Vanessa Guillén were found just outside of Fort Hood Army base. This tragic discovery comes after over two months of Guillén's family demanding a shut-down of the base and an investigation following her disappearance on April 22. The Guillén family's attorney, Natalie Kawaham, speculated that the unfolding of the case in the public's eye, and the eruption of protests for justice for Vanessa, contributed to the military beginning to take the investigation seriously over recent weeks.
Prior to her disappearance, Guillén's family noted that Vanessa had experienced ongoing sexual harassment by her superior while on the base. While Guillén had reported the harassment to friends, family, and even soldiers on the base, she felt too threatened by the potential to be demoted or to lose her job to report it to Army officials. The Guillén family cited these concerns to Army officials following Vanessa's disappearance, but the military was slow to investigate her disappearance. Demanding answers from Fort Hood leadership, Guillén's family was only met with lies. Vanessa Guillén's murder could have been prevented had Fort Hood conducted an immediate and adequate investigation of one of its missing soldiers; yet, the military's actions to disregard and cover up her disappearance carry on the long history of attempts to cover up the rampant sexual harassment and sexual assault that take place within the military.
Although women only make up about 20 percent of the military, nearly 65 percent of sexual assaults in the military target women, with the youngest and lowest-ranked amongst those disproportionately targeted in such attacks. According to a 2019 report from the Department of Defense, the surge in sexual assault within the U.S. military over the prior 2 years had been driven almost entirely by a 50 percent increase in sexual assault of women. One out of every 16 women reported being groped, raped or otherwise sexually assaulted over the prior year, and nearly one in three women in uniform will experience sexual assault during their time in the military overall. Despite 65 percent of such cases in 2018 receiving "disciplinary action" by the military, victims have rarely seen such menial punishment – often taken by commanders at their own discretion – result in justice. Vanessa Guillén's story is heartbreaking, and unfortunately just one amidst an abominable culture of sexual violence and abuse of power rampant within the military, both domestically and internationally.
The issue of police and military repression of young working class Black and brown people has taken center stage in communities across the nation. Since news of Vanessa Guillén's disappearance breached the public sphere, cities have erupted in protest of her murder and the military's malfeasance in appropriately investigating. As evidenced by the gains made over the past few weeks, only the masses of people remaining in the streets demanding justice will get us the justice and transformation needed – for Vanessa Guillén, and for all victims of police and military terror.