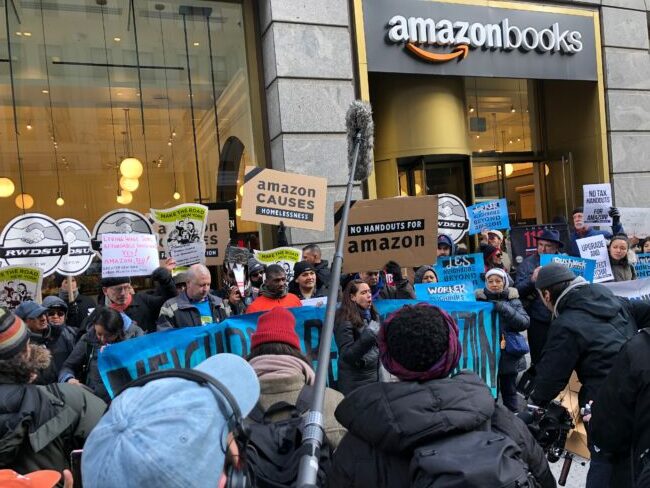 Grassroots community organizations and unions forced Amazon to withdraw its plan to build a headquarters in Queens, NY.
This is a people's victory over an anti-immigrant, anti-worker deal that threatened to wreak havoc in Queens and all of New York City. It reaffirms that it is the collective organizing power of poor and working-class people that has led to monumental victories throughout the history of the United States – from housing rights to worker rights to civil rights to LGBTQ and women's rights. We in the PSL have had the honor to work along aside amazing, strong and incredible women organizers who played leading roles in this struggle against Amazon.

Exclusive Breaking the Chains Interviews with four leaders in the struggle:
BTC: Why did you get involved in the struggle against the proposed Long Island City, Queens, NY Amazon HQ2?

Sabrina: I got involved in this fight because I have been organizing with CAAAV for three years now. This is a base I have grown to develop a close relationship with. We try to understand how our government really works versus how we are made to think it runs, like the myth vs the truth. I lived in Queens all my life with my family, in South Ozone Park. Queens is where we feel at home. Hearing that Amazon was coming to Queens and not providing fair work and opportunities for working-class people was a slap in the face…NYC was made by the working class. This is a system made to break us down, not build us up.
It comes down to being able to defend your home…we're talking about people working two, three jobs just to be able to afford to live here. When the majority of your income goes towards rent, you barely have anything left over, especially for people with children. We had to break down the effects this deal has on immigration, housing…everything. We trained our members on how to write testimonies against the Amazon HQ2 deal in their own languages…because that's what America needs to be: a place where people can be free from persecution when expressing themselves. There is such lack of language access in NYCHA [New York City Housing Authority-ed.] and all city agencies.
This fight isn't just about Amazon. This is about corporations and government not talking to and listening to the people, pushing their agenda instead of what the people really need. These corporations that are saying they will benefit the working class are actually reinforcing this unfair class structure, that then reinforces the oppression that our people face through social, racial and economic injustice. It's time we remind them: "You need to listen and follow us, not the other way around. You were put into office to do what we want." We're not opposed to jobs. We want our communities to thrive. But it depends on the quality of those jobs and where we can move with that. We need big-picture thinking about what we need and are demanding. What is equality? What is equity?
BTC:
How did you feel when Amazon announced they were no longer building an HQ2 in Queens?
Sabrina: For us, this was a huge win: knowing this is what it takes and that we have it within us to make change happen. We have people power and unity. We're stronger than ever because we're fed up with what's happening. We know the fight is far from over…we know the community power is there and that we have the numbers and voices to win and get what we want. If there's a will there's a way – we figured that out when we won. People had lost hope for a while. We realized we needed to inform and educate people on the actual facts versus what was being said.
We realized we got the numbers we had because we did on-the-ground communication and canvassing. We had real conversations instead of just asking "do you think this is a good deal." The polls referenced in the media say 60 percent of residents wanted Amazon here but…we had to ask, who are these people they are questioning? Most of those people had the privilege and accessibility to say "Yes this deal will benefit me", but not the people who are renting, who are in public housing and people who don't have access to housing and education.
People were eager to have these conversations with us. They just wanted a platform and a way to plug in. We got a thousand signatures in 2 hours in Queens on Feb 9. People were saying "We don't want Amazon here, this is a bad deal." When the deal was first announced Amazon only promised a job fair for Queensbridge residents. Then after the first city council hearing, they promised 30 jobs…but what's 30 jobs to the 7,000 families living in Queensbridge? We just kept pressure on Bezos and city officials who said yes to the deal and the public. When Amazon brought their PR team to speak, we were there with the people and our voices were louder than theirs.
BTC:
What lessons can we draw from the Amazon HQ2 fightback that you would like to share with other community organizers and future organizers?
Sabrina: What I really learned was the people are there and they're looking for a way to plug in and want to be given a platform. Most of the people we spoke to on our day of outreach either hadn't heard about the deal or they didn't feel like it was going to affect them personally, like public housing residents didn't think it was going to affect them. We had to help people understand that it would drive everyone out when the rent increased and it would cause more privatization, making all our lives harder. It isn't just about Amazon or corporations but how we can envision a community we want to live in … it's time we start demanding and being on the offensive instead of just being on the defensive and only fighting when our rights are under attack. We are the working class of NYC. We are why NYC is a place people want to come to. We have persistence and resilience. There is nothing like people power to bring us together to get what we need and what we want.
BTC:
Why did you get involved in the struggle against the proposed Amazon HQ2?
Josselyn: Being an organizer with Queens Neighborhoods United (QNU), it just felt like a natural progression of the work we had been doing. We work across the borough, but we do work very locally especially in Jackson Heights and Corona. We are fighting gentrification, on a bigger scale, breaking down the neoliberal rhetoric over how to develop communities, specifically communities of color in NYC. This news felt very much in our backyard. As part of QNU, I pushed for a united front of organizing efforts across NYC. I elbowed my way into many conversations and brought QNU into this, while uplifting the community's voice. Like, making sure we were not just talking about the subsidies, but about anti-union and anti-immigrant sentiments, etc.
The other part of our work was actually going back to our communities and doing political education. Amazon's bad for New York, and bad for cities around the world. This could have looked differently had voices from wealthier, less impacted communities been louder. I was hearing from white and land-owning folks who were only appalled by the amount of the subsidies but not questioning how bad Amazon is for unions or immigrants. I was trying to make space at the table, pushing people to the left, holding people accountable. We can't win on Amazon on just one angle.
BTC:
What are some connections you made between different ongoing struggles throughout this campaign?
Josselyn: I think the conversation around how bad Amazon is has been boiling for a long time, and I'm sure there's more horrible s*** that didn't even come up that we don't know yet. Amazon has its claws in everything and we don't even realize. Specifically in New York City and Queens, we're thinking through immigration, housing, and the economy. How does this one company that is so wealthy wanna come and use our money to hurt us even more? How are we getting played so easily? At the end of the day, companies like Amazon make rich people richer, at the risk of poor people of color and low-income people as a whole. This affects the most marginalized in our society.
It felt like Amazon was used as the placeholder around economic development that we actually need, and that point was so critical to the defense. But how do we think about growing our communities and what we prioritize? Those include immigrant communities, working class people, in NY particularly the public housing residents, who are impacted by economic development that doesn't center their needs. If we only care about how to grow our economy without centering the voices of those most vulnerable and in need, then we're not doing it right. It's not actual economic development for the people.
BTC:
What lessons can we draw from the Amazon HQ2 fight-back that you like to share with other community organizers and future organizers?
Josselyn: We definitely need a united front, and we need to speak our truth. It was very much a community effort. There were so many people plugging in, doing different things. Another take away was trust – there was a surprising amount of trust across organizations, even if we didn't completely f**k with each other. The goal was so much bigger than just one group. Often times we want to organize things so perfectly, but one of the strengths was that it wasn't just one totally organized coalition. It was multiple groups working at different levels, working with multiple communities. It was organized in its own disorganized way. We weren't all working closely with each other, but there was a level of coordination, catching up with each other. And it never felt like a competition, it felt good, like we should all always be hitting [Amazon] every day,. so long as people were like No Amazon, No concessions.
BTC:
Why did you get involved in the struggle against the proposed Amazon HQ2?
chivita: I got involved in the Amazon fight because it felt like a threat at a new scale for our communities.As someone who moved a lot after migrating to the US, I did not have a sense of what tight-knight community was until I came to Queens. I've experienced what it feels like when communities organize and build together, [we see this in Queens]. The magical things about Queens and all the immigrant communities that live here are something that we really did not want to lose and it was very evident that if Amazon were to come to Queens those things would be at risk and very likely disappear. It already feels like we are battling to stay in our neighborhoods daily whether it be because of deportations, rents, and economic instability for families, particularly single mothers. All of these things, I see them day in and day out. Our community at Centro Corona was displaced, evicted from a block being sold on 111th street—even that moment of displacement felt so massive in the way it affected our community and the violence folks experience within that. To imagine that at a massive scale was something that felt very close to my heart and the work that we're trying to do.
A big part of the way I was involved was organizing on the ground with political education for our community and youth. Many people in Corona were not aware of the Amazon deal in all its details. It was very important to us for our neighbors to be informed about the facts versus the lies coming from the politicians and Amazon's public relations campaign.
I was involved in doing some cultural work and cultural productions for actions and helping to think through what the things we want to fight for are, and definitely following the leadership of other folks who had been involved in the fight. This work was very important because it helped —the communication and imagining bit —to frame our story and open up the spaces to imagine what we want to fight for, how we want to think about bringing others into the work, the cultural pieces is also about continuing to inspire our communities to feel like they can sustain the fight, and creating the visions of what we're fighting for.
BTC:
How did you feel when Amazon announced they were no longer building an HQ2 in Queens, NY? To what do you attribute Amazon's change of heart?
chivita: When Amazon announced that they were not building their HQ in LIC, it was a huge high, super inspiring, super joyous. It felt really powerful. Later on when we were celebrating it felt like how I want our neighborhoods to feel, all of us coming together to celebrate and be joyous together. We have a saying at Centro Corona that " What we want is to build each other up to have the courage to ask for more of what we deserve." That's what that moment felt like — like inspiring us to continue having the courage to ask for more of what we deserve and fighting together for it. And the way that different folks back each other up in that and hold different parts of that vision for each other — collectively, beyond an individual, organization, or community, but moving into really beautiful visions of what we deserve.
I think Amazon is not used to getting any resistance. That's a big part of it. But also, it was never a fight about one issue but the multiple intersecting issues that are violent and problematic about Amazon, from their labor issues to how they would affect gentrification and displacement to their connection to immigration and really building a collective understanding of how Amazon is bad for all of us and not letting go of any of those issues. I think Amazon was not looking to have folks dive deeper into these issues and  build stronger alliances to back each other up.
BTC:
What are some connections you made between different ongoing struggles throughout this campaign?
chivita: The connections that were made throughout different ongoing struggles is really how powerful corporations are oppressing folks in a variety of different ways and trying to split them up and have them really betray one another. That is the logic of capitalism: give us something minuscule, some crumbs to try and hold onto and defend against each other. So, the really powerful thing was the way folks really showed up for each other. And I think that's why it also makes sense that these struggles were led by folks who had multiple intersecting identities. Folks who are deeply aware of the intersecting violence and insist on not separating those struggles. It makes sense that the folks leading this fight were at the intersection of queerness, immigration, gender, race and ethnicity and grounded in working-class immigrant communities and did not allow those issues to be separated. I think it's particularly important to acknowledge that in many immigrant rights organizations in Queens there are a lot of queer folks, a lot of women and TGNC folks that are leading the work even though those identities are often not visible or uplifted. I think that it's really important to know who is leading the work, and to be clear that it is not merely identity politics, but rather thinking about it in terms of popular education and the belief that our lived experiences bring expertise and knowledge. When folks who are grounded within working class and immigrant communities also have intersecting experiences moving through the world with other  identities that experience specific types of oppression, that knowledge and expertise can really help build a world for all our people, that really deserves to be uplifted.

BTC:
Why did you get involved in the struggle against the proposed Amazon HQ2?
Cathy: I got involved in the struggle against Amazon Headquarters in Queens because as a socialist and a member of the Party for Socialism and Liberation we understood that a corporation who has a long history of being anti-union, that is bringing in jobs that are not accessible to most of our community and that has a long history of collaborating with ICE and the institutions that oppress our community on the daily has no place in our city.
I was born in Elmhurst Hospital raised in between Woodside and Ozone Park, attended high school in Queens and Taekwon-do school in Jackson Heights and I'm the daughter of two Colombian immigrants. I have a deep love for my community and ensuring that it remains the home to working-class immigrants; that people who migrate to the United States running away from the destruction U.S. imperialism has caused in their home country will find a home in Queens. Queens is one of the most diverse counties in the United States, where you will find blocks of people from the Dominican Republic, India, Mexico, Guatemala, Guyana, China, Korea, Colombia, etc.  Our borough has been rapidly changing due to gentrification.We saw the highest rent increase in the entire United States in the summer of 2018.
I am a teacher in Corona, Queens,where 18 percent of our student population is considered homeless, which is higher than the 10 percent city average. The Queens we know is already being quickly gentrified that is affecting our families, and especially our young immigrant youth. Amazon headquarters would only lead to a faster gentrification of our community, these heightened rents would be impossible to pay. I think of my immigrant youth who are already work more than one full-time job to keep up with bills, of single parents working multiple jobs in order to pay rent. Even as a NYC teacher it is challenging meeting the rent demands of NYC. What would happen to us? Additionally our community has many needs, we have public housing residents living in apartments without heat in the middle of the freezing NYC winter, mold and rot-infested apartments.We have youth that could benefit from mental health services, health insurance, after school programs, more guidance counselors and social workers. We have a crumbling MTA [subway] system, yet  [Gov.] Cuomo was ready to give $3 billion of our tax dollars away to trillion dollar corporation! That's blasphemy! So, all we had left to do was use our people power to fight!
Since November we conducted weekly door-knocking and train outreach days. We had conversations with people about the negative impacts Amazon will have on our community Through these conversations about Amazon we discussed the ways our political system works with corporations in order to ensure the benefits of the ruling class are put above those of the majority. We were able to obtain hundreds of signatures on our petition that had the following demands: No tax giveaways to Amazon, Protect and Upgrade NYCHA, Make Quality Housing a Right and Stop Union Busting. We also conducted a community speak out in Queensbridge where residents, activists, CUNY students, and Queens community members spoke of the reasons people should join the struggle against Amazon. After, Bezos announced they were second guessing making a headquarters in Queens we united with different organization for a Queens-wide outreach day.

BTC: How did you feel when Amazon announced they were no longer building an HQ2 in Queens, NY? To what do you attribute Amazon's change of heart?


Cathy: I was in shock, regular schmegular NYC activists like us beat one of the biggest corporations in the world! As a socialist and a student of history I regularly read of the power people have to beat white supremacist, patriarchal, capitalist systems and corporations.But it always seems like those revolutionaries who lead those struggles are super humans, with tons of knowledge, tons of experience, endless energy, etc. But it wasn't, while we are all amazing in different ways, we are all the reflection of the people in our community. It was regular people (mostly women of color), driven by the love for our community, love for our people, love for the working-class people power, that were extremely dedicated to the struggle, that used all of our free time and resources to fight back, that won! It was the activists that were having daily conversations with people in their community, getting petitions signed, calling government officials, doing the groundwork that stopped Amazon.
BTC:
What lessons can we draw from the Amazon HQ2 fight-back that you like to share with other community organizers and future organizers?
Cathy: The biggest lesson for other organizers is that when we organize we win! This campaign was successful because Amazon was hit from all angles. We united with many different community organizations across Queens in a coalition. We focused on door knocking, training, outreach and changing the narrative in communities. Other organizations held community forums, made phone calls to elected officials, used social media to target elected officials, mailed in post cards, etc. Regardless, of the different work being done, our message was united "NO AMAZON AT ALL." None of the organizations were looking to negotiate the conditions under which the Amazon headquarters would come to NYC. We understood that any deal for the Amazon headquarters would be a step toward selling out our community. While we worked separately for the most part of the campaign we all shared the same overarching message. We understood that the situation was critical and could lead to the complete transformation of our community, and we had to treat the situation as such. We have 1-2 jobs, work long days and after work we had to make sure to still go out and do outreach, organize rallies, organize meetings and make sure we were just as organized and united as our enemy. At the end of the day our struggle continues, as long as wealth and property in our country continues to be controlled by the 1 percent, our struggle will not be complete. But it is the daily organizing of regular workers like us that will lead to the transformation of our society to one build for the human need of the many.