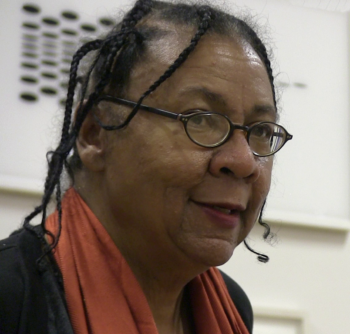 No Black woman writer in this culture can write 'too much'. Indeed, no woman writer can write 'too much' … No woman has ever written enough."
– Remembered Rapture: The Writer At Work, 1999
Today we celebrate the life of bell hooks, an activist, educator, author, and feminist whose writings inform and inspire us everyday.
Gloria Jean Watkins was born to a janitor and a maid in 1952, in a segregated community of Kentucky. She adapted the pseudonym bell hooks after her maternal great-grandmother, and kept it uncapitalized to emphasize the importance of her writing over her individual identity. At the age of nineteen, she started working on her first book, which became the seminal text Ain't I a Woman: Black Women and Feminism (1981).
Dr. hooks went on to earn her bachelor's, master's, and doctorate degree, as well as write over thirty books over the course of her life, providing analysis on race, gender, and class that inform today's understandings of intersectionality. Her many works include All About Love (2000), an analytical and instructive book that speaks on the enormous capacity of love for both personal and social change, and Killing Rage (1995), a collection of essays on ending systemic racism. Even with all of her academic accomplishments and professional accolades, hooks continued to place importance on writing in a way that was accessible to her readership, which spanned far beyond the walls of the academy.
In her writings, hooks provided and popularized a much-needed working class Black feminist perspective, at a time when the mainstream feminist movement was focused on the experience of affluent white women. As hooks wrote in Ain't I A Woman, "It is obvious that many women have appropriated feminism to serve their own ends, especially those white women who have been at the forefront of the movement; but rather than resigning myself to this appropriation I choose to re-appropriate the term 'feminism', to focus on the fact that to be 'feminist' in any authentic sense of the term is to want for all people, female and male, liberation from sexist role patterns, domination, and oppression." This expansive vision of feminism continues to resonate.
hooks is also looked to for her unique focus on accountability, collective power, and love, concepts that are a transformative part of organizing towards justice today. In a 1998 interview with Maya Angelou, hooks explained, "For me forgiveness and compassion are always linked: how do we hold people accountable for wrongdoing and yet at the same time remain in touch with their humanity enough to believe in their capacity to be transformed?" These ideas are crucial for organizations building working class power, in order to account for the many contradictions we face.
We honor the legacy of hooks by bringing these vital principles to our fight for a more just society, as well as more just relationships with each other and to ourselves.