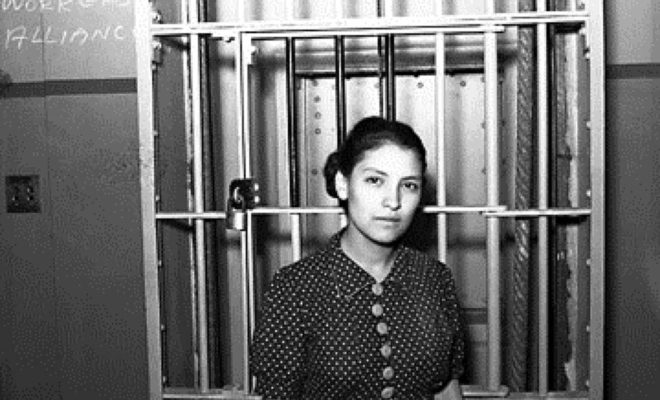 This is the legacy that Emma Tenayuca left, fighting courageously against injustice in a time when she was expected not to fight.
Tenayuca, born in 1916, was drawn early to socialism and activism. Her maternal grandparents raised her in a majority Mexican-American neighborhood of San Antonio, Texas. Her highly political grandfather would take her to see radicals speak at Plaza del Zacate, today's Milam Park. Some of those speakers were veterans of the 1910 Mexican Revolution. Early exposure to radical activism and politics, as well as growing up during the Great Depression, pushed Tenayuca towards leftism and militant organization.
In high school, she joined a ladies' auxiliary of the League of United Latin American Citizens, but left in protest of their treatment of Mexicans born outside the United States. This, too, set the trajectory for her work in activism as a Mexican woman, in which she focused on advancing the struggle of Mexican working-class women.
Tenayuca was arrested for the first time in 1934 for her involvement with the Finch Company Cigar Strike, but it wouldn't be her last time. She was 16 years old when she began organizing for the International Ladies' Garment Workers' Union (ILGWU) and the National Workers' Alliance (NWA), which consisted mostly of agricultural workers and pecan shellers. She helped form two branches of the ILGWU, but again Tenayuca confronted the insidiousness of racism and anti-communist sentiment. Rebecca Taylor, an ILGWU representative born to a wealthy family, spoke openly of her distaste for Mexicans. She contributed to rumors and misinformation about Tenayuca's goals and intentions, fueling anti-communist sentiment among union workers.
Tenayuca then started working with the Unemployed Council, a mass organization of the Communist Party USA. The Unemployed Council merged with the NWA in 1936. Tenayuca worked diligently to agitate within the Mexican-American community and draw people to the NWA. They tackled issues such as unfair distribution of Works Progress Administration (WPA) jobs, police brutality towards Mexican-Americans and illegal deportations. Through all of this, Tenayuca began to build a reputation.
In 1937 the NWA appointed Tenayuca to their National Executive Committee. There she worked with Frances Duty, a Black man and leader of the Harlem Workers' Alliance. The NWA, unlike the anti-communist unions, strove for racial solidarity between workers. Tenayuca also joined the Communist Party USA. She led protests against the brutal force exercised by the Border Patrol. She was jailed again in June for participating in a sit-in. Of this time period, Tenayuca said:
There was a feeling here in San Antonio of activism. We built up an organization of workers that were out of work. Every day of the week we got them food, help, work. We could take the sons of workers over 18 to the Tree Army [Civilian Conservation Corps] or the WPA to learn some kind of trade. We would take those who just came in from outside San Antonio to the WPA. We took Mexicans who couldn't speak English to the relief office. If they didn't get what they wanted, we would return."
As Tenayuca became better known as a communist, city officials and the likes of Rebecca Taylor used it against her, stirring up anti-communist sentiment to try turn Mexican-American workers away from the NWA and Tenayuca's leadership.
In the late 1930s in San Antonio, pecan shelling was a huge industry. The city was in the center of an agricultural area that produced more pecans than anywhere else in the United States. An estimated 12,000 workers, primarily Mexican women, shelled these pecans.
The workers' pay had been cut from five to three cents, and working conditions were miserable. Tuberculosis rates were rising. Workers walked out one day and elected Tenayuca, barely 21 years old, as their official leader. The strike went on for four months. Ultimately, she was removed as the official leader because of anti-communism but continued to unofficially organize with the strikers.
The successful strike won a wage raise. This enormous early victory in the Mexican-American struggle is soured by the fact that in the next two years, the shelling process was largely automated, eliminating 10,000 factory jobs.
The strike was followed by a crackdown on communist activists in San Antonio. Tenayuca was elected the chairperson of the Communist Party USA in Texas, replacing her husband Homer Brooks, in 1939. But, during a speech at the San Antonio Municipal Auditorium, a mob of 5,000 reactionary protesters started a riot. The auditorium was vandalized and sustained great damage. She escaped through a passageway but had to leave San Antonio for Houston, working there under an alias.
Throughout her years as an organizer, Tenayuca participated in countless other struggles, small and large. She supported every workers' movement she could from 1934 to 1948. She picketed, lobbied, wrote leaflets and provided material support to striking workers. Many of the causes sh worked on are still relevant today, including minimum wage laws and mass deportations.
Emma Tenayuca passed away on July 23, 1999, after developing Alzheimer's Disease. She is remembered as a leader and stellar revolutionary organizer. Like Dolores Ibárruri Gómez before her, Tenayuca gave all of her passion, her heart and her soul, to the movement, to workers, to the fight for justice. La Pasionaria, "The Passion Flower," lives on in the hearts of people across the globe who believe in her mission.