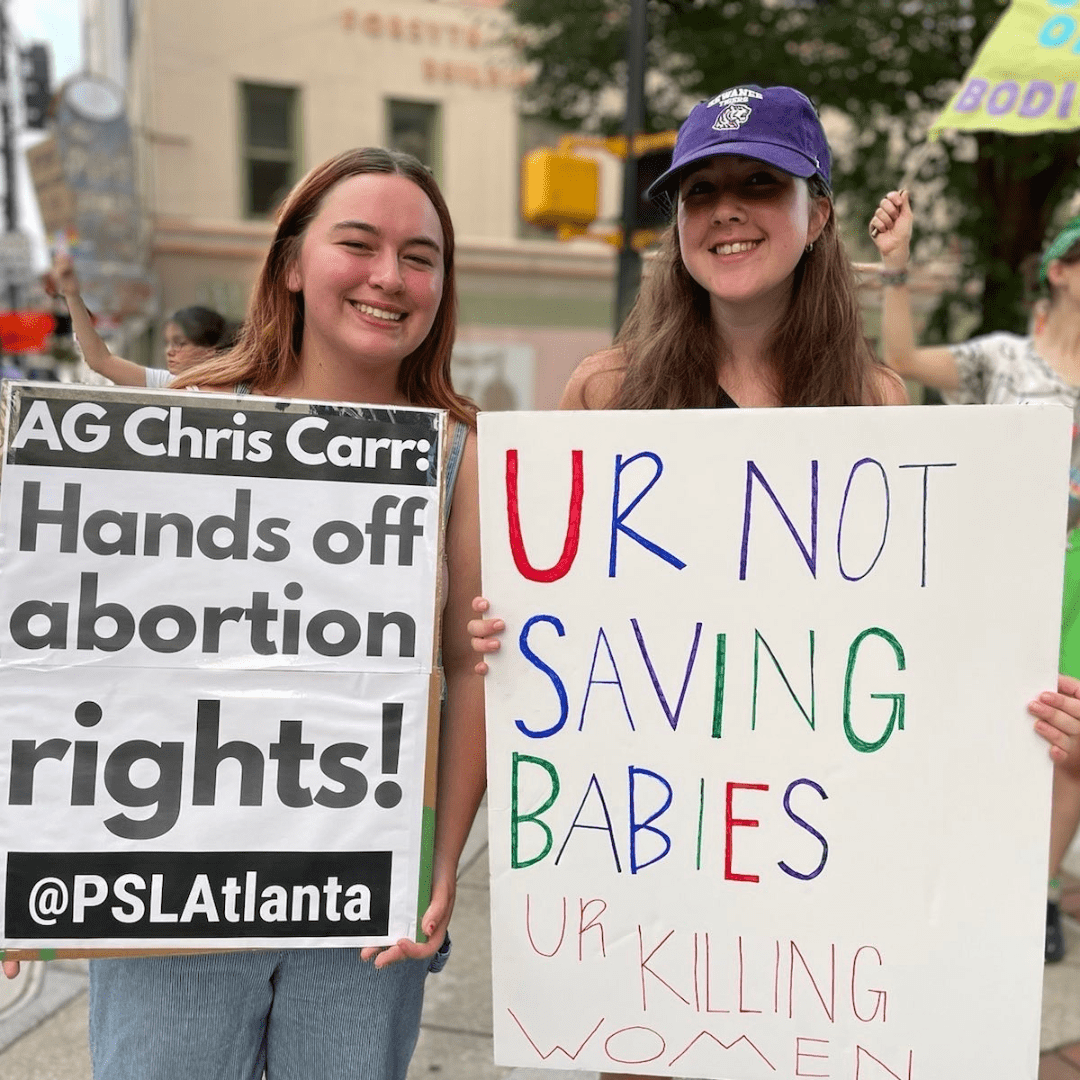 Georgia's HB 481, which bans abortion in the state at approximately six weeks, is now in effect. The misleadingly described "fetal heartbeat ban" prohibits abortion after electrical activity can be detected by an ultrasound; an embryo does not have a heart at six weeks. Georgia's restrictive abortion ban had been tied up in court since 2019, but the Supreme Court's June ruling to overturn Roe v. Wade emboldened the 11th Circuit Court of Appeals to act. Chief Justice Bill Pryor, writing for the appeals court, made the unprecedented move to stay the lower court's injunction. Instead of a standard 28-day waiting period before the bill took effect, the politically motivated restriction of Georgians' right to abortion immediately became the law of the land on July 20th.
On July 22nd, protesters rallied outside Georgia's Federal Court of Appeals, demanding that this unscientific, misogynist bill be repealed immediately. Rain began to pour, but the community still yelled, "We won't go back! We will fight back!" Jermaine Stubbs of the Party for Socialism and Liberation emphasized that the overturn of Roe is part of a wave of right-wing, anti-people decisions by the Supreme Court. Stubbs reminded the crowd, "We're fighting for democracy, OUR version of democracy!"
In addition to restricting abortion to the first six weeks of pregnancy, when many don't even know they are pregnant, HB 481 has significant implications for the future of fetal-personhood laws. The bill reclassifies fetuses and embryos as "natural persons," counting them in "population-based determinations." Fetal personhood laws are unscientific and by design put the rights of an embryo or fetus before those of a pregnant woman. The implications of legally establishing that a fetus is a person are wide-ranging and horrifying. Women and others who miscarry or self-induce abortions will be at risk of criminal prosecution. A state could conceivably apply child endangerment laws to a fetus and criminalize those who are pregnant on the basis of what they eat or drink, what kind of prenatal care they do or do not access, the activities in which they engage, or even for being the victims of domestic violence. Fetal personhood laws could also impact contraception access.
Georgia's HB 481 also provides "that the right to recover for the full value of a child begins at the point when a detectable human heartbeat exists." There are no stated guidelines for determining such value. Terminology such as this harkens back to slavery, wherein Black women were not only exploited as forced laborers but also as the reproducers of the enslaved workforce. Those in power seek to preserve these relations, creating a legal right for men to seek compensation for a lack of return on their "investment." Additionally, Georgia courts are now given the power to order child support for a fetus, and fetuses will be considered "dependents" for tax purposes. There is also mention of the right to civil action by women against abortion providers who provide care that results in the termination of a pregnancy, with some exceptions for unviable fetuses and pregnancies that would result in the death of the mother.
These attacks on women and all child bearers are occurring in a state that was one of the first to cut unemployment benefits during the pandemic, where the income eligibility cutoff for welfare assistance is the lowest in the nation, and where there is no Medicaid eligibility for able-bodied individuals without children at all. The state is 47th in health outcomes and has the 3rd highest rate of uninsured residents. With a state minimum wage of $5.15, it is clear that the lawmakers and the governor are completely uninterested in whether working-class families have a healthy life in which basic necessities can be met.
That Chief Judge William Pryor, calling the original plaintiffs "abortionists," would take the unprecedented step of refusing Georgians the standard 28 days to prepare for the law to go into effect reveals the undemocratic, aggressive nature of the right-wing attack on women's lives and rights. Appointments at Georgia clinics were unceremoniously canceled within minutes of the court's ruling and patients were sent home without receiving a planned abortion, a basic medical procedure. Georgia's far-right lawmakers and judges have proven they will bend and break established rules in order to completely control women's bodies and to further incite and reward their far-right base. Meanwhile, Biden and the Democrats, currently in power at the federal level, hem and haw about possible court challenges to actions they have yet to take. This Georgia bill was passed in 2019 with lawmakers' full knowledge that it was unconstitutional at the time, because there was understanding that the Republican Party would continue to prod and push until the Supreme Court took up a case that would overturn Roe vs Wade.
Working people in this country need a party and a movement that will go to bat for our interests. The Democratic Party has proven that they have neither the will nor the ability to stand up for even the most basic democratic rights. This moment in American politics signals that many difficult battles lie ahead, battles that the Democrats are not equipped to fight. Only a militant, independent movement can act with the urgency needed to protect millions of people from reactionary attacks on our most basic rights.