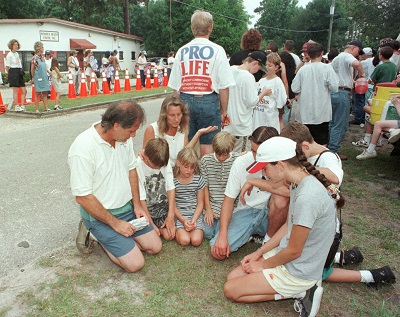 The following article was published in Vol 4 Issue No. 2 "Not a moral issue"
Led by Rev. Joseph Slovenec, a minister from the Church of the King in Cleveland Heights, Ohio, and emboldened by successes just the summer before in Wichita, Kansas, the right was met by an organized and militant resistance that ultimately drove them out. The showdown in Buffalo was a critical moment in the struggle for women's rights, and contains important lessons for us today.
The late 1980s and early 1990s saw an increase in attacks on women's rights, as part of a right-wing assault on workers in general and oppressed people in particular. Upon his election, Ronald Reagan declared that it was his mission to "make abortion illegal." He ensured that his administration would oppose sex education, stem-cell research and prevention of sexually transmitted diseases, along with the right to abortion. By 1992, Reagan had already implemented the "Mexico City policy," which would block non governmental organizations from using federal funds to provide abortion resources or advocate for its decriminalization.
These measures not only affected those on U.S. soil but also blocked international funding to NGOs providing basic education on reproductive care. All these measures were strategically used to limit women's input in political decisions and to keep them in line.
Earlier in 1992, Buffalo Mayor James Griffin announced his support of the "Spring to Life" initiative, opening the city's doors to the worst elements of the reactionary anti-abortion forces. Griffin said, "I want to see them in this city. If they can shut down one abortion mill, they've done their job."
The notoriously violent group Operation Rescue was targeting Buffalo, viewing it as a mid-sized, conservative city with a friendly leadership. Throughout the previous decade, Operation Rescue used violent means to
make clinics inoperable, forcing itself into cities like Wichita, Kansas, and
blockading access to clinics. Operation Rescue members screamed slurs at both patients and doctors until clinic staff and patients vacated the premises. In many cases, members of Operation Rescue went on to join groups such as "Lambs of God" and "Army of God" whose histories include the use of butyric acid to attack clinics, as well as the murders of women's health care providers.
Operation Rescue's leadership assumed Buffalo would be perfect for them. The conservative Catholic character of the city and the backing of the mayor would lead to another successful series of temporary clinic shutdowns. But they soon learned that a culture of prochoice activism had recently bloomed in Buffalo, and pro-rights groups had already begun to mobilize.
Buffalo United for Choice, a militant coalition, was created after local activists recognized that OR's repressive tactics could only be put to an end if met with massive and organized resistance. Three weeks before OR's arrival, BUC began training their members in direct action tactics, including setting up command posts, engaging in self-defense training and educating the rest of the community on the repressive tactics OR was about to bring to western New York.

In the early morning of April 19, 1992, with BUC's plan of action solidified, the group set up chains of activists around three clinics in the heart of downtown, preparing for the worst. When anti-abortion reactionaries finally showed up at the clinics, BUC, National Women's Rights Organizing Coalition and other feminist organizations outnumbered the reactionaries 2,000 to 500.
During the first few days of the struggle, OR quickly realized that they were not in Kansas anymore. Their tiny numbers and unorganized strategies were no match for BUC's well-planned escort service for patients and willingness to physically restrain reactionaries from accessing any clinic.
During the second day, OR shifted to target a smaller clinic in Amherst, a suburb of Buffalo. They assumed the resistance would not shift to protecting the smaller clinic based in a wealthier neighborhood. BUC had already planned for this strategy change. A small OR group was confronted by a BUC presence numbering 1,000. The antiabortionists were quickly pushed onto the highway by the activist barricade, just as they had been at the downtown clinics, and eventually dispersed through arrests and acceptance of defeat. The Amherst office confirmed that, through all of this, there had been no interruptions of its day-to-day operations.
After two weeks, 597 antiabortionists had been arrested. Operation Rescue abandoned their efforts and not a single doctor was prevented from seeing patients.

Through organizational preparedness, combatant practice and militant means, pro-choice activists were able to protect western New Yorkers' access to reproductive care. Today, this history can serve as a guide as we confront yet another ramp up in the anti-abortion campaign.

The 1992 united front in Buffalo is just one example of militant organizing that stalled right-wing rhetoric and prevented numerous violations of women's access to health care. The right-wing campaign then was met with resistance that ranged from militant direct action and defense of clinics to the mass march for women's lives on April 5, 1992.
Currently, the rightwing is hoping that one of their illegal and ridiculous abortion bans reaches the Supreme Court. The Supreme Court has shown itself quite capable of undermining women's rights, regardless of whether the individual judges are more or less reactionary. The real factor that will force the Supreme Court to uphold Roe v. Wade, and the right to abortion, is the organized and mobilized mass of people engaged in struggle, from direct action to mass mobilization.
Right now, women's access to health care is being portrayed by governments as a far-fetched concept of radicalism, just as it was throughout the 1990s. The right to abortion is not something we can just sit back and ask them to defend, we must struggle for it.