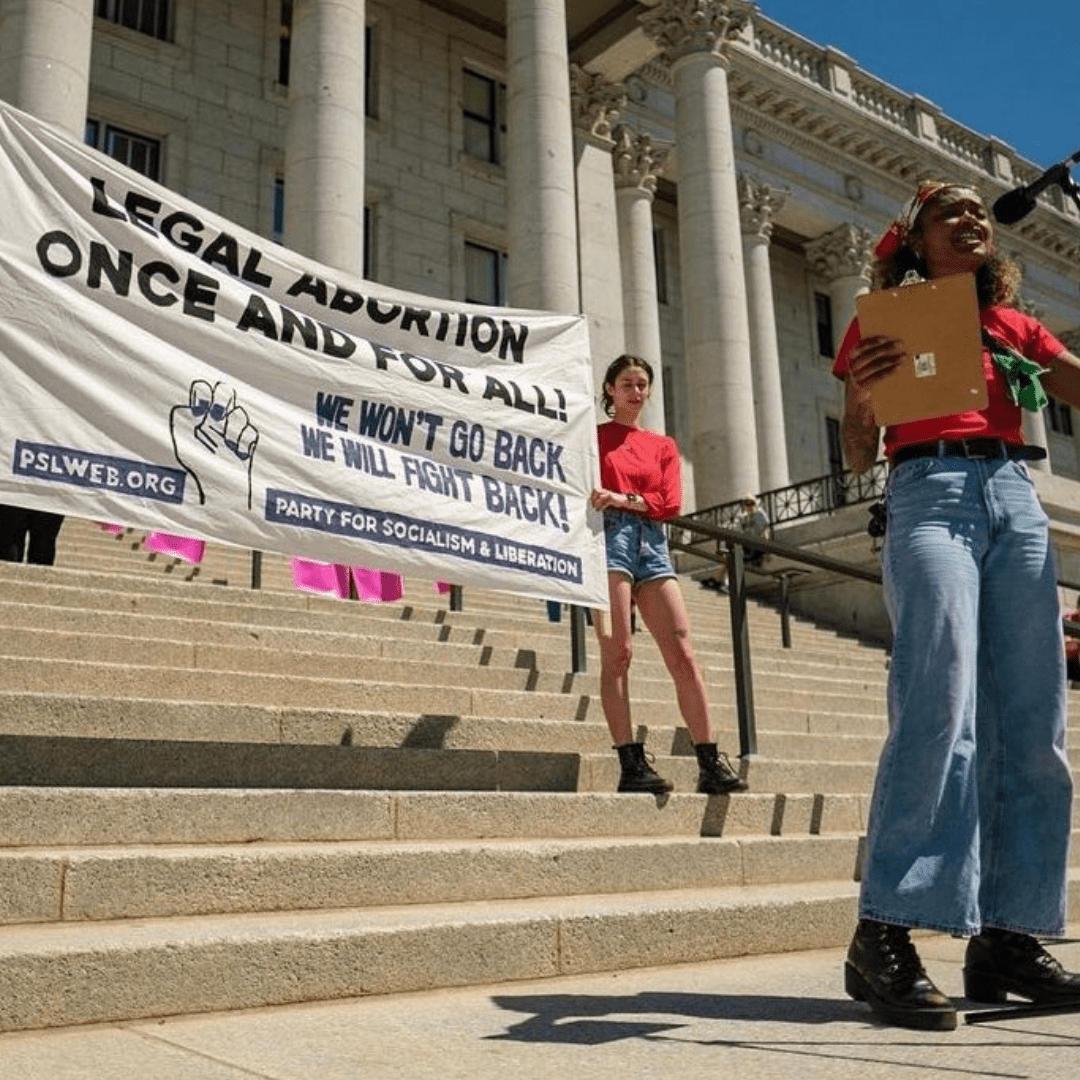 Utah lawmaker's continued attacks on the reproductive rights of women, during increased abortion restrictions nationwide, is a telling sign that these right-wing lawmakers will not stop their intensifying war on women's bodily autonomy. This war will only intensify when the Supreme Court officially rules in late June on Dobbs v. Jackson Women's Health, which is predicted to overturn the landmark abortion case Roe v. Wade. Despite the increased attacks nationwide and in Utah, working class, poor, and nationally oppressed women and other gender oppressed people will not sit idly by. Now is the time to show our state legislature that women, transgender and gender non-conforming people will decide our fate through a militant, mass mobilization.
Utah's legislative session began January 18, concluding on March 4 during which a number of anti-abortion and anti-trans bills were introduced. HB 382, which did not pass the House Committee, would have further increased abortion restrictions by requiring all patients completing the informed consent counseling sessions to make two trips to a health care center at least 72 hours apart. In addition to multiple trips, they would also have had to sit through a biased online module allegedly depicting abortion procedures and fetal development. HB 127, which also failed to pass through the House Committee, would have charged healthcare professionals with "unprofessional conduct" for providing gender-affirming healthcare to individuals under the age of 18.
HB 11, another anti-trans bill, bans transgender girls from competing in K-12 scholastic sports. This bill was quickly ushered through on the final night of the 2022 General Session, a last-minute decision undermining any input from the public, while also blindsiding other lawmakers.
The extreme right-wing nationwide assaults on abortion have steadily increased while the Democrats, controlling all branches of government, failed not only once, but twice, to codify abortion rights into law by passing the Women's Health Protection Act. Not only have the Democrats failed, an unelected body of officials, the Supreme Court, is willing to strike down Roe – which represents the bare minimum of abortion access in the United States.
Abortion access for Utah women will become further restricted if Roe is overturned, due to a trigger law, which goes into effect if the Court overturns that historic decision. This will lead to a burden for Utahns seeking abortion services of traveling to Colorado, Nevada or New Mexico. In addition, Utah's Republican platform on April 19, presented a proposal to omit the language "rape or incest" from current restrictive abortion laws, an even harsher stance than that of the Latter Day Saints church. Fortunately, the proposal failed to become GOP policy at the end of the convention.
Utahns fight back
During the legislative session, organizers with the Party for Socialism and Liberation held a demonstration in front of House Chambers demanding the defeat of restrictive bills (HB 382, HB 127, and HB 11), and supporting bills that would increase the quality of life for Utahns such as HB 77, HB 105, HB 220 and so on.
Since the approval of anti-trans bill HB 11, a rally in support of trans youth took place at Utah State Capitol, while high schools and a middle school demonstrated with student walkouts in opposition. The momentum of this mobilization has only further increased since the leaked Supreme Court draft indicated the Court's majority intend to overturn Roe. Since May 2, several rallies in support of abortion rights in Utah have been held, including nationwide calls, gathering thousands of supporters into the movement for reproductive rights.
It is clear that momentum for the movement has been increasing and has only been propelled forward despite the onslaught of right-wing attacks, failure of Democrats to pass WHPA, and leaked draft of the Supreme Court. Thousands of Utahns have continued to take to the streets, mobilizing many women, trans, and gender non-conforming people into the fight for reproductive rights.
Taking to the streets has always been the way the working class makes history. The history of the women's and LGBTQ movements in the United States is rooted in struggle. Roe was not handed to us on a silver platter. We have to remember what it meant to mobilize millions of working-class women, trans, and gender non-conforming people into the streets, to fight tooth and nail, to defend basic human rights.
The issue of abortion access is not an individual one, but a collective and broader issue that will directly affect millions of people. Due to the direct attacks on reproductive health, the right to safe and legal abortion has not only been systematically chipped away but is now likely to be taken away altogether.
Utah is one of several states that has an abortion trigger law that can immediately go into effect if Roe is overturned. Utah's trigger law, SB 174, could go into effect in about a month, banning nearly all abortions except in the case of rape, incest, or if the pregnancy is life threatening. This moment calls for thousands of Utahns to make concrete demands which push for the repeal of SB 174. As the struggle continues to grow, pressure can be placed on politicians to pass progressive laws protect abortion access and demand that the repeal of existing laws which harm our class.
Our demands:
Repeal SB 174!
Pass WHPA!
Dismantle and abolish SCOTUS!
Legalize abortion once and for all!
It is imperative that we keep the deeply rooted history of struggle alive by fighting for socialist solutions to the problems caused by the capitalist system of exploitation. Only a revolutionary victory can ensure our right to access free, safe, and legal abortions as well as other healthcare services. The participation and leadership of working women, the nationally oppressed, and LGTBQ community will bring together and help build militant, mass, mobilization of working class people into the struggle.
The Party for Socialism and Liberation – Salt Lake will be holding a demonstration Saturday May 21st in defense of abortion rights at Washington Square Park @ 1pm.