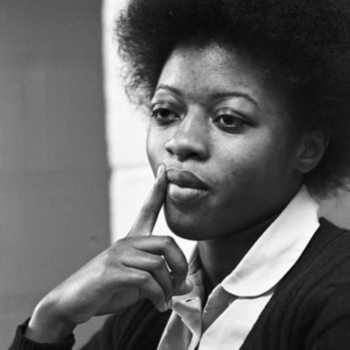 "In 1975, a jury of seven white and five [B]lacks found her not guilty by reason of self-defense. The first time in the history of the United States where a [B]lack woman had killed a white man who was raping her, and was found not guilty." Larry Little, the founder of the Winston-Salem, North Carolina Black Panther Party, spoke these words just over a year ago as he narrated silent footage he took during the historic trial of Joan [pronounced joh-an] Little in Raleigh, North Carolina.

Joan Little is a Black woman who is more than just a name to be held up for one moment in history. Her life and her case pull back a curtain and reveal how capitalist society creates the conditions that systematically incarcerate and assault Black women and girls. The poverty and racism that forces us into desperation while we are only searching for survival is part and parcel of the system itself.

Little was raised in Beaufort County, North Carolina. The town of Washington was a rural, poor, working-class area that was still extremely segregated even in the late 1960s and early 1970s when Little was growing up. As a response to the gains made during the civil rights movement, the Ku Klux Klan had resurfaced and night riders often terrorized Black families. Like most working-class mothers, Joan's mother often had to work nights to support her family financially. Little then took care of her nine siblings. This pressure on a teenager, coupled with friction with her stepfather, meant Little ran away from home quite a bit.

As a poor Black teenager growing up in the rural South, Joan made hard choices to survive. She was labeled unruly and delinquent and targeted by police. In 1968, her mother sent her to Dobbs Training School for Delinquent Girls, from which she escaped after only a month. She lived in New York and Philadelphia before moving back to North Carolina in 1970 at age 18. Throughout December 1973 and January of the following year, Joan was arrested several times for theft and breaking and entering. Police even tried to tie her to a prostitution ring despite lacking any evidence. She was incarcerated in 1974 at the age of 20 for burglary.

Clarence Alligood was a 62-year-old prison guard with a history of raping women prisoners and trading items and favors for sexual acts. Alligood had frequently tried soliciting sex from Little and during the night of Aug. 26, 1974, he visited her cell three times from 10 p.m. to 3 a.m. When he tired of her rejection, he pointed an ice pick at Joan and forced her to perform oral sex. Little managed to get the ice pick away from Alligood, stabbed him and escaped.

A little over a week later, Joan turned herself into authorities. Later in the trial, she said: "I ran because it was self defense. … If the authorities there had gotten to me before anybody, before any other body, … I never would have been here to tell what really happened." She was charged with first-degree murder. If convicted, Joan would have received the death penalty.

For a month, Joan Little's defense team employed an effective strategy while she herself stood strong. She faced her accusers head on and testified in her own defense. The defense team utilized scientific jury selection, which had only come into use in 1972, to survey the surrounding population and establish the racist attitudes widespread in Beaufort and Pitt Counties. They succeeded in getting the trial moved to Raleigh. Throughout the trial, the prosecution used the tried-and true method of criminalizing and hyper-sexualization to paint Joan as the aggressor in the situation. Ida Mae Roberson, Phyllis Ann Moore and several other women came forward about Alligood's other assaults. Joan Little played a role in her own defense and the legal strategies were sound in response to the racist, sexist caricatures of the prosecution.

The movement to free Joan Little was a critical factor in winning her freedom. Joan's case received wide media attention. Angela Davis and the Black Panther Party were heavily involved. Rosa Parks was a co-founder of the Joan Little Defense Committee in Detroit. There were demonstrations outside of the courthouse. Protesters picketed outside during the trial holding signs that said "Free Joan Little" and "Self-defense is not a crime."
Organizers put together a Free Joan Little Day in 1975, during which there were protests all over the country. Not just on that day but many, many times, thousands took to the streets in her defense. It seemed as if everyone from every part of the struggle was getting involved and was determined to see that justice was served. There was international support for her as well. There was a movement song written about her and sung at rallies by a very prominent and respected movement group. Joan Little, seeing all of the different people becoming involved and raising awareness, said: "My life is not in the hands of the court. My life is in the hands of the people."

Joyce Wilcox, an organizer in the movement to Free Joan Little, recalls what it was like during the time of Joan's trial and what it meant for the movement: "Women of all colors identified with Little in her fight against rape, and in her right to control her own body. Many of us were part of the movement against the Vietnam War and identified what happened to Little with rape of Vietnamese women under U.S. occupation by the same U.S. state apparatus. We connected Little's case with the way all women in the U.S. were treated by the legal system if women tried to report a rape — it was the woman who was put on trial. Some white women in the South who supported Little also pointed out how phony charges of rape of white women by Black men were used as a club against the Black community." The jury of five Black and seven white people deliberated for one and-a-half hours before finding Joan Little not guilty. Her case broke barriers for more reasons than one. She became the first Black woman, the first woman, acquitted of murder in self-defense against sexual assault. This established an important legal precedent for Black women in cases against their abusers. Rape had been used as way to terrorize and intimidate Black women for hundreds of years. Joan Little's case, and the movement that ensured her freedom, showed that women could fight back and win. Black women had won a major victory in the right of control over their bodies. It was likewise a victory for sexual assault survivors, for all those who fought back against their abusers and were criminalized, and for the movement against racism and sexism.

The criminalization of Black women and girls is a key tool to further oppress and marginalize the Black working class. Little's case, and the broad-based movement to free her, show how all of us from different struggles must come together and continually stand together against this heinous and disgusting treatment of Black women and girls to liberate not just women, but all of the working class.