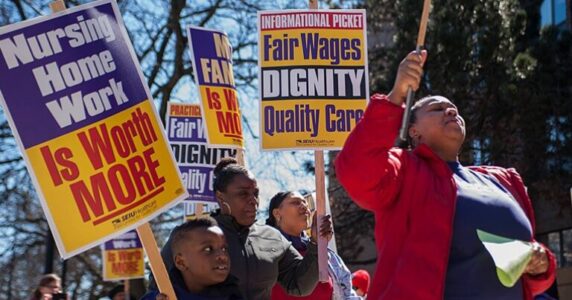 On May 7, healthcare workers of the Service Employees International Union (SEIU) in Chicago were prepared to strike the following morning. The workers, who were demanding a critical response to the COVID-19 crisis from nursing home owners, had laid the groundwork for a strike of 6,000 healthcare laborers. One day before the strike was set to begin, however, the SEIU announced it had reached a monumental labor agreement with the nursing home owners.
The planned strike was in response to a critical lack of resources and compensation for frontline healthcare providers in the Chicago area. Demands included more stringent safety protocols in the workplace, personal protective equipment for all workers, a 50 percent hazard pay bonus during the pandemic and higher wages for all.
Nursing homes are among the places hardest hit by the COVID-19 pandemic. In early May, it was reported that more than 16,000 workers and residents in elder care facilities had died of the virus. Despite the mounting crisis, the Center for Medicare and Medicaid Services announced that it was rolling back infection prevention regulations, paving the way for even greater risk of virus transmission in these facilities.
However, the COVID-19 pandemic did not create the hazardous working conditions currently present in nursing homes; rather, the virus exacerbated the already unsafe and unfair environments that nursing home owners had created.
The United States government has consistently disinvested from elder care facilities across the country. As a result, wages at nursing homes have been abysmal for decades. In the United States, a nursing assistant working at an elder care facility typically earns less than $28,000 annually; the employees who clean and stock nursing homes make even less.
Laverne Johnson, who has worked in a Chicago nursing home laundry room for 10 years, makes only $14.10 per hour.
"I don't want to be working at 70 years old," she told The Nation. But "I can't retire because I'm not making enough money. You got to pinch here, pinch here, pinch here. That's not fair we got to do that."
Since the pandemic emerged, the profit-driven cutbacks have manifested in increasingly dangerous scenarios. Nursing home employees in Chicago were faced with the prospect of continuing to provide care without adequate protection from the rapidly-spreading virus.
"Now we don't really have any PPE," SEIU member Chris Brown told The Nation. Brown, a certified nursing assistant also remarked that his workplace provided insubstantial personal protective equipment: gowns that were not fluid-resistant, gloves that frequently broke, and surgical masks.
It was amidst these deplorable conditions that SEIU Chicago healthcare workers were poised to strike. The union agitated for a one-year contract that provided a baseline pay of $15/hour for all employees and $16/hour for CNAs, a hazard pay bonus, 80 hours of paid sick leave for any workers afflicted with COVID-19, transparency of information regarding COVID-19 cases, adequate staffing on all shifts, and clear, consistent safety protocols.
On Thursday, May 6, the SEIU announced it had reached a historic agreement for a two-year contract that met the demands of the workers. The union went on to host a Zoom press conference, featuring frontline healthcare workers standing alongside elected officials from the region.
In a prepared statement, the SEIU explained, "The agreement impacts over 10,000 members of SEIU Healthcare who provide care to residents at the 100+ nursing homes of the Illinois Association of Health Care Facilities. The contract gains are a testament to the courage and commitment of workers who were poised to strike at 64 facilities in order to protect themselves and the residents for which they care during this time of unprecedented vulnerability and risk."
The victory achieved by the organizing of SEIU members is also a clear result of organizing and building critical class consciousness amongst workers. As the COVID-19 pandemic continues to highlight and intensify longstanding class conflicts, the workplace must continue to be a center of activism and organizing.