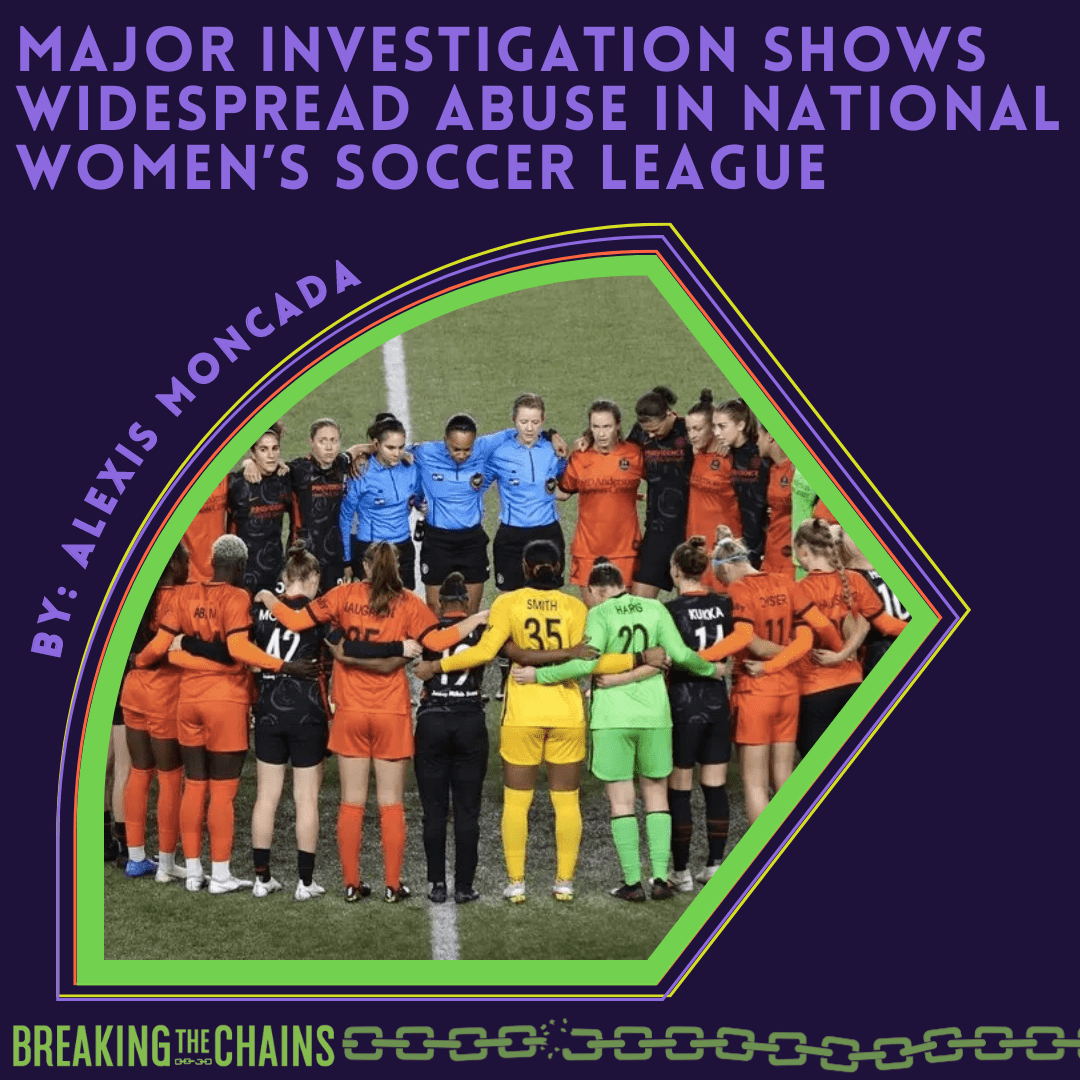 In 2015, Meleana Shim, a 24-year-old soccer player for the Portland Thorns, sent an email to her coach, Paul Riley. She wrote, "We both know that your interactions around me have been inappropriate and it has negatively affected me and my performance on the field. The power you have as my head coach plays a big role in our relationship and cannot be overlooked."
Shortly after receiving Shim's email, Riley began cutting her playing time in retaliation and encouraged her to delete incriminating text messages. Shim eventually reported Riley's behavior to the NWSL. Their investigation failed to acknowledge that Riley committed any "unlawful act." Although Riley was fired in response to accusations of "sexual coercions," no one was notified of his actions. Riley's coaching license was never suspended, and the NWSL's inaction allowed Riley to remain eligible for other coaching opportunities. Players, staff and the public remained in the dark about Riley's abuse of Shim, as well as his history of inappropriate behavior with other players under his leadership.
Riley is just one of several NWSL coaches whose participation in the widespread verbal, sexual and emotional abuse rampant in the NWSL went unaddressed. That is, until the players–with the support of their union–organized together to demand change. A year ago, after two coaches were fired for abusing their players, NWSL players organized a five game work stoppage that forced the NWSL to begin taking seriously their role in perpetuating a culture of abuse in women's soccer.
As a result of players' union organizing, a major investigation was completed and published on October 3, 2022 that revealed widespread abuse and coverups in the NWSL. The nearly 300 page report included screenshots of text messages, filed complaints and an examination of various coaches in the NWSL who have been accused of sexual misconduct. The report also makes clear that the abuse was well-known to NWSL executives, owners and coaches and that they did next to nothing to stop the abuse. Even in cases where coaches were fired for abuse, owners publicly praised them, and they found new coaching jobs.
The report also specifically details abuse by three coaches—Paul Riley, Rory Dames and Christy Holly—and the NWSL's inaction in response to reports of their abuse. Each one of these coaches were accused of emotional and verbal abuse, including inappropriately talking to players about sex. Paul Riley, previously coach of North Carolina Courage, was accused of engaging in "grooming behavior" like sending late-night texts to players, inviting them to drink, flirting and touching them inappropriately. Dames, the former coach of the Chicago Red Stars, engaged in sexual relationships with players "multiple times." Holly engaged in consistent sexual and romantic relationships with staff members, even sexually coercing a player by sending her sexually explicit images and messages, luring her into a meeting and touching her inappropriately. 
The report found that the NWSL and the U.S. Soccer Federation not only bred an environment of sexist abuse but assisted in actively covering up allegations to protect profits, rather than addressing the abuse. When women did come forward, they were met with accusations that they were trying to "kill the league." Teams frequently shared congratulatory press releases about coaches who were fired for misconduct, suggesting to the public that no harm was caused. It is clear that instead of making an active effort to address abuse, an active effort was made to hide allegations from other teams, the players and the public.
Mainstream reporting on this issue has fallen short. While many acknowledge the "culture of abuse" within the NWSL, they stop short of naming the root causes of the abuse. Under capitalism, the pursuit of profits reigns above all, and the exploitation of women—whether physically, economically or sexually—is rewarded.
Capitalist exploitation occurs across all sectors of society, including in professional sports; owners and executives turn a blind eye to relentless abuse, or participate directly in the abuse because maximizing profit is more important than protecting workers.
The presence of patriarchy in addition to capitalist exploitation creates dangerous and abusive positions for women workers. But women workers have always fought back against workplace abuse. Most recently the #MeToo movement—named in 2006 and popularized in 2017—exposed sexual harassment as a systemic workplace issue. In recent years, millions of people, predominantly women, came forward with stories about their experiences with violence, including those in the workplace. This movement raised mass consciousness among the working class about patriarchal violence and inspired changes in policy in workplaces across the U.S. Women, men, trans and nonbinary workers came together to share their experiences and solidarity with one another, committing to engage, together, in the struggle against patriarchal violence. NWSL players showed this same solidarity with one another when they came together to fight against the NWSL for unfair and sexist wages in their first ever collective bargaining agreement. 
The future of the NWSL will be determined by women workers, who have shown their power and became a massive force in revealing the exploitative nature of the NWSL, by coming forward and sharing their stories despite the gross lack of protections and policies to support them. Women workers in every area of the country are engaging in these struggles within their workplace, against sexist violence and harassment, and for a better world.