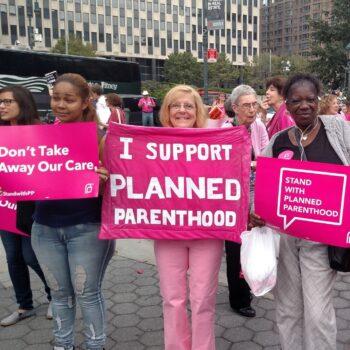 On New Year's Eve, a raging fire destroyed a Planned Parenthood facility in Tennessee. In the aftermath, local authorities determined the fire was an intentional act of arson. No injuries were reported, but the building was completely destroyed, making invaluable healthcare services temporarily inaccessible to the many working class people who rely on them.
Alexis McGill Johnson, president and CEO of Planned Parenthood Federation of America, explained, "It must be made clear that these hateful acts go much further than property damage — they harm the patients who depend on safe Planned Parenthood health centers, staff, and providers to receive trusted, essential health care services."
This act of domestic terrorism comes as no surprise in the context of continued attacks on reproductive rights. In fact, this very center was attacked less than a year ago, when an unidentified gunman shot through the doors on January 22nd, the 48th anniversary of Roe v. Wade.
And throughout the country, there is an uptick in threats against abortion providers. 2020 saw a 125% increase from 2019 in cases of battery and assault outside of clinics, most times involving anti-abortion protestors pushing, shoving, tripping, or spitting on patients and staff. There were also increases in hate mail, vandalism, and death threats or other threats of harm.
The recent increase in violence comes after a long history of violence against abortion providers. Between 1977 and 2014, there were eight murders, 17 attempted murders, 42 bombings, and 186 arsons targeted at U.S. abortion clinics and providers. Since then, these numbers have only risen, including the deadly 2015 attack on the Planned Parenthood in Colorado Springs that left three dead and nine injured.
It is important to understand the extent that these attacks interrupt services and intimidate prospective patients. Most health centers that provide abortions offer many other services, including cancer screenings, pap smears, and STI testing and treatment. Oftentimes they provide health services for vulnerable community members, including women, LGBTQ people, young people, and lower-income folks. Since the renovation and then arson of the Knoxville Planned Parenthood, Knoxville Center for Reproductive Care reports being overwhelmed with patients.
These violent actions are part of a larger legislative attack on reproductive rights. One faith leader in Tennessee, Rev. Dr. Donna Whitney, criticized Tennessee lawmakers, saying "part of the blame for these acts lies on our lawmakers and elected leaders who use harmful, untrue, and extreme rhetoric about women's medical care to promote their political agenda."
In 2020, Tennessee Gov. Bill Lee signed into law one of the strictest anti-abortion bills that would ban abortion as early as six weeks, before many people know that they are pregnant. While the law has been temporarily halted and is still being reviewed by various judicial systems, it could become much more likely to be approved if the Supreme Court continues their anti-abortion rulings.
In September of 2021, the Supreme Court allowed a Texas Law, SB 8,to go into effect. SB 8 effectively bans abortions after six weeks and avoids judicial review through a technicality. And during oral arguments of Dobbs v. Jackson Women's Health Organization, an upcoming case challenging a Mississippi law, the justices' comments implied a possible overrule or complete undermining of Roe v. Wade. This would leave decisions about abortions up to the states, which results in enormous loss of access to abortion and other reproductive services across the country. A decision is expected in June.
We have to see these laws and rulings for what they are: a sexist attempt to strip women of control over their own bodies. To combat this, we need to draw on lessons from the militant history of struggle for reproductive justice, and build a working class movement in defense of abortion access. We know that we cannot rely on the Supreme Court to protect the rights we have struggled for. We need to organize, build, and take it to the streets to secure the future we deserve.