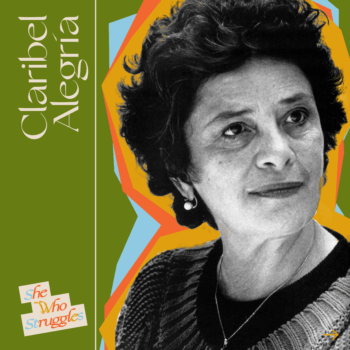 "I ran the tips of my fingers
over your skin
remembered the friends
whose quota was filled
and are on the other side:
the one who died
a natural death
the one who fell in combat
the one they tortured
in jail
who kicked aside his death"


–Claribel Alegría, Mortally Wounded, 1990
At 7 years old, Claribel Alegría witnessed "La Matanza", the military massacre of hundreds of indigenous Pipil peasants after an attempted uprising in western El Salvador. For the rest of her life she would find ways to put the sacrifices and victories of the liberation struggles in El Salvador and Nicaragua into words. Alegría would go on to study under the Spanish poet Juan Ramón Jiménez at George Washington University, where she learned to hone her craft as a poet and writer. Through poems and novels she drew visions of the lands she loved, complete in their beauty and their hardship, writing lines in poems such as "Documentary":
Besides the coffee
They plant angels
In my country.
A chorus of children
And women
With the small white coffin
Move politely aside
As the harvest passes by.
Claribel Alegría was born into a legacy of struggle in Esteli, Nicaragua, in 1924. Her father Daniel, a doctor, fought with the revolutionary Benjamín Zeledón against the United States Marines and the right-wing Nicaraguan government they supported. His revolutionary activity and criticisms angered the occupying forces, and the Alegría family was forced into exile in El Salvador shortly after Claribel was born. Even in exile, Alegría's father wrote against the Somoza dynasty, which controlled the government of Nicaragua for 43 years. Somoza initially threatened to have Daniel Alegría killed, but then sent a delegate to his home and attempted to earn his allegiance by offering him a position as a Nicaraguan ambassador. Alegría recounted in an interview with BOMB magazine, "My father got very red in the face and said, 'Tell him I will never serve a dictator like him, and you walk out of my house right now!' After that my father was in exile all the time because the Somoza dynasty went on and on". This exchange had a lasting impression on Alegría and would shape her politics later in life; she was forever an opponent of repressive government and the United States' interventions in Latin American politics.
Alegría belonged to a generation known as the "committed generation," a cohort of writers who brought to light the injustices and struggles of their countries and supported the revolutionary efforts that were coming to life across Latin America. Alegría was deeply inspired by the victorious Cuban Revolution of 1959, and believed it heralded a new dawn for Central America that was prosperous and free of American intervention. During her time in Paris, from 1962 to 1966, Alegría's friend Carlos Fuentes encouraged her to revisit her recollection of La Matanza and write a novel based on her memories of the uprising. In collaboration with her husband, Alegría wrote and published her first novel, Cenizas de Izalco (Ashes of Izalco) in 1966. While conducting research for the book, Alegría discovered that much of the newspaper articles and archives documenting El Salvador's history of government brutality and repression of peasant uprisings had been destroyed by the Salvadoran government. Upon its publication, Cenizas de Izalco was one of the first to explore the atrocities committed by the Salvadoran government against its people.
When the Sandinista Revolution ignited in Nicaragua in 1979, Claribel returned to Nicaragua for the first time since she was a baby to document the revolution. After six months of traveling through Nicaragua, she and Flakoll wrote Nicaragua: The Sandinista Revolution—a Political Chronicle, 1855–1979. The document was a 500-page collection of testimony and history about the Sandinista revolution. Alegría would also give readings and lectures in the United States to counter the Reagan administration's support of the Contras.
After leaving El Salvador at 18, Alegría never lived there again. In 1980, she was scheduled to give a poetry reading at the Sorbonne in Paris, but learned the day before that El Salvador's archbishop, Óscar Arnulfo Romero, had been assassinated for speaking out against government repression and social injustice. The next day, she attended the reading, but instead of using her voice to read poems, she raised her voice against the Salvadoran government's campaign of violence and openly spoke about how they had murdered the archbishop. After that, Alegría said, "my cousin, Vides Casanova, then Minister of Defense, sent word that I should never come back to El Salvador, otherwise, he would not be responsible for what happened to me… I did not go back for 11 years." During her forced exile, Alegría's beloved mother passed away; she wrote about the pain of not being able to attend the funeral in her poem "Unfinished Rite."
Alegría identified as Salvadoran, but felt deep love for Nicaragua, the land of her birth, as well. In 1999, she told an interviewer, "El Salvador is the fatherland because it's where I grew up… But my motherland, Nicaragua, has welcomed me with open arms." When she passed on January 25, 2018, her ashes were scattered in both countries. Her words shared the lives of the people of El Salvador and Nicaragua, and the events of their revolutions, with the world. For her work, Alegría received numerous awards and honors, including the prestigious Casas de Las Americas prize. Claribel Alegría exemplified a life lived with a commitment to justice and the struggle against dictatorship. Claribel Alegría, ¡presente!