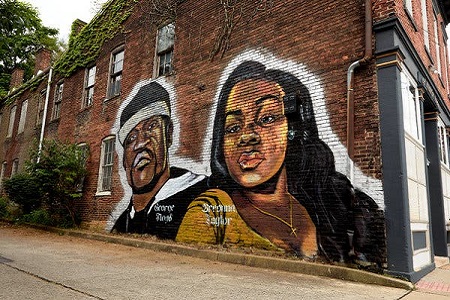 By Candice Yanez
Today Breonna Taylor would have been 27-years-old. But on March 13, Louisville police murdered Breonna in her own home while she was asleep. An EMT with plans of becoming a nurse, Breonna put her life on the line as a first responder amidst the COVID-19 pandemic. Two months after her murder, none of the racist killer cops responsible have been arrested.
Like George Floyd and Ahmaud Arbery, Breonna Taylor's name has been repeated throughout growing rebellions against police brutality and racism that have swept the country over the last 10 days. Hundreds of thousands of people are standing up and demanding justice for their sisters, brothers and communities being brutalized by police terror.
Breonna Taylor is one of many women of color and transgender women who have been victimized by racist policing. The murders of Sandra Bland in Texas and Rekia Boyd in Chicago exposed the innate racist and sexist capitalist system that must be torn down.
Among the thousands of protesters hitting the streets demanding justice, Black mothers are some of the most prominent voices. Black women and girls are systematically criminalized and brutalized themselves. But they also stand front and center when the victims of police brutality and state-sanctioned assassinations are their children, partners, siblings, nieces, and nephews. These women are at the forefront of the struggle against police violence.
Even in the face of tear gas, rubber bullets, stun grenades, and arrests ― the protests continue. Protesters everywhere will not stop until there is justice for Breonna Taylor, Ahmaud Arbury, and George Floyd.
Justice for these murders demands for arrests and charges against racist killer cops. From the disastrous U.S. government response to Covid-19 pandemic to the economic downturn causing millions to lose their jobs ― capitalism is being exposed on all fronts for the destructive system that it is. To end police violence and repression once and for all means the need to dismantle the capitalist system and replace it with an alternative system. A system that truly serves the people is one that is anti-racist, anti-sexist where housing, employment and education are guaranteed rights codified into law.
Across the country, unjust curfews and intense police repression have not quelled mass resistance and outrage. Tens of thousands of protesters have marched together in defiance, many chanting: "You impose a curfew? We are gonna defy it! It's what we do!" The capitalist ruling class is fearful when confronted by the power and determination of the people! Breaking the Chains magazine joins in solidarity with the protesters from coast to coast revolting against racism and police repression and demanding to stop the war on Black America.
Original article can be found here.