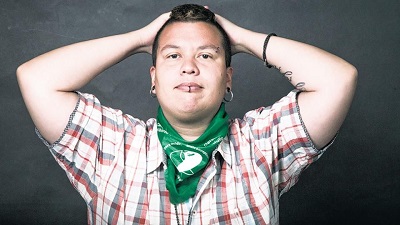 The following article was published in Vol 4 Issue No. 2 "Not a moral issue"
Health is important. When our health deteriorates, we become ill. Naturally we seek out care. From checkups to the occasional hospital stay, health care is a booming business under capitalism. For that reason, it is less health care and more profit generation.
For a transgender person like me, health care can be a difficult subject
matter. For those who do not conform to the binary gender norms, navigating the ins and outs of a health care system — originally constructed on the foundation of patriarchal gender binary — is a great struggle.
Transgender individuals face many barriers and obstacles when it comes to
accessing adequate health care, including outright discrimination and the refusal to treat transgender patients altogether. The Trump administration is emboldening professionals who attempt to do this as this publication goes to print.

According to a report in Transgender Health, "In the largest national survey to date of transgender discrimination in health care in the United States, researchers found that 28 percent of respondents reported postponing needed medical care because of fear of discrimination." Other problems stem from the lack of clinical and culturally competent providers.

The case of trans man Robert Eads is a tragic example. In 1996, he became very ill and was diagnosed with ovarian cancer. However, numerous doctors refused to take him as a patient. By the time he found doctors who were willing to treat him, his cancer had metastasized. He died in 1999 at 53 years of age.
Reproductive health care is likewise a challenging terrain for transgender
and gender nonconforming people. According to the National Center for
Transgender Equality, "Transgender people are often reluctant to seek sexual and reproductive health care. One in three transgender people, and 48 percent of transgender men, have delayed or avoided preventive health care such as pelvic exams or Sexually Transmitted Infections screening out of fear of discrimination or disrespect.
"One survey reported that half of transgender men did not receive annual
pelvic exams. Reasons included discomfort with the physical exam due to
gender issues (40 percent), lack of money or insurance (13 percent), lack of a medical provider they were comfortable with (13 percent), and thinking they did not need pelvic exams (7 percent). Another survey found that transgender teens, including those at risk for unintended pregnancy, were reluctant to go to a family planning clinic."
Today, sexual and reproductive health care is under attack by
those who have no place deciding what people do with their bodies.
Abortion is the primary, but not only, target of the current wave of attacks.
The right-wing campaign is targeting women in what has been a veritable
war on women for decades now. It has extremely negative consequences
for all working and oppressed people and only compounds the challenges
faced by transgender and gender nonconforming people seeking
reproductive care.
There are no statistics available on the number of transgender men
accessing abortion, as the main data collection institutions do not collect
information on the gender identity of abortion seekers. Regardless of the
numbers, trans men do face unwanted pregnancies and seek abortion. When medical providers solely consider abortion-seekers to be women,
transgender men and non-binary people are negatively impacted.

It is important to recognize, and reject, the element of social control that is inherent to the anti-abortion laws currently being passed. All families should have a right to choose how and when and if they will have children, regardless of the parents' gender identity. All families should also have access to the necessary social supports to raise a family. Sexual and reproductive health care, including access to abortion, should be available to all people regardless of income or gender identification.

We have a common enemy in the struggle to defend the right to and access to abortion, and in the fight for full reproductive rights. The forces of reaction that have plotted to overturn Roe v. Wade since it was decided in 1973 are the same reactionary forces that opposed same-sex marriage and oppose the struggle for LGBTQ equality.
They seek to maintain a social order that is characterized by the oppression of women and the strict gender binary of patriarchal class society. They have a special hatred of women's independent decision-making because it undermines the bourgeois family form and male supremacy. They are unconcerned with the health and wellbeing of women or any oppressed people.

The attacks on access to abortion and reproductive health care are a
component of a larger onslaught on working and oppressed people's rights. Every win that our movement can make that pushes back those forces is a win for our class.