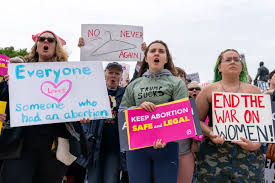 By Marissa Rodriguez
In the midst of a global pandemic, Texas lawmakers have banned access to abortions, an essential and safe medical procedure. 
Three weeks ago, Texas Governor Greg Abbott, Republican, ordered a halt to "all surgeries and procedures that are not immediately medically necessary." Additionally, steep penalties exist for anyone who violates this order, including fines up to $1,000 or 180 days in jail– this includes providers.
This ruling has placed an undue burden on Texans who will now have to travel anywhere from 100 to 800 miles in order to seek out these services, during a time when money for travel and accommodations simply does not exist. The last time this was true in Texas was in 1973, before Roe v Wade. 
What is the reasoning behind this anti-abortion and anti-woman ruling? Governor Abbott claims that deeming abortions unnecessary will free up Personal Protective Equipment (PPE) for doctors and nurses on the frontlines of the pandemic.  In reality, most abortion procedures do not require the use of PPE, or even hospitalization. 
Abortion is a time-sensitive procedure, and many Texans cannot delay in receiving care. Working women are being forced to delay treatment until later in the gestation cycle, which can be dangerous, and in many cases outright denying them the right to abortion. 
Texas lawmakers have made it clear that they will take advantage of medical crises to further their so-called "pro-life" agendas. What about the lives of the people who need access to medical care now?
Healthcare workers in Texas and around the United States do not have reliable access to PPE, despite the advance warning that a pandemic would reach this country. 
Nurses and other frontline healthcare workers are forced to reuse what few resources they have, or to use non-medical grade equipment like bandanas and trashbags in an attempt to cover up. 
This has left individual states to compete with one another for life-saving equipment including ventilators. Compounding this problem are seizures of supplies by the federal government, who refuses to enact the Defense Production Act in a meaningful way. 
Disastrous lack of planning and blatant disregard for the lives of the people of the United States by the federal government has left Texans at the mercy of state-level leadership. That leadership is determined to wind back the clock on abortion and will do so at the risk of lives.
Women in Texas are fighting back. Organized resistance in the time of shelter-in-place orders means that people are voicing their opposition to anti-abortion and anti-women policies online. The movement for reproductive justice will continue to make clear that under no circumstances will we allow our rights to be revoked. 
Abortions do not unnecessarily require Personal Protective Equipment, and should not be under attack during this public health crisis. Abortion is an essential service, and a right. The government of Texas and the federal government have no reason to attack this or any other essential medical service in the midst of a global pandemic and crisis for which the government's ineffective response is at least partly to blame. 
Original article can be found here.